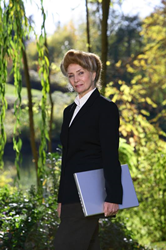 GRANTS PASS, Ore. (PRWEB) April 16, 2020
Air Date: 13 April 2020
Guest: Pam Bonney, MS, RDN, CDN, FAND, nutrition & fitness practitioner, Tried & True Nutrition, Inc. M.S. degree in clinical nutrition from New York University, Huntington, New York
https://www.voiceamerica.com/episode/122945/how-to-protect-our-frontline-healthcare-professionals
*
During the virus pandemic, Bio Logic Aqua® Research Water Life Science® will be providing regular updates at http://www.sharonkleynehour.com/Coronavirus.php
*
"We're moving towards integrative medicine," says New York nutritionist Pam Bonney, "that integrates many modalities."
"We're living and learning together," says Sharon Kleyne, founder of Bio Logic Aqua® Research Water Life Science®. "The Global Health Olympics™ means that we all need to be in training worldwide to learn new health habits and long-term health practices to ensure our health and the mental and physical health of others worldwide."
In her commentary, radio host Kleyne asserts that "we're all in this learning process together. That is why I bring up the quarterback Tom Brady again and again and again. Like all of you," Kleyne confides, "I've followed football all my life. What Brady has taught us with his training methods, his personal and professional practice and health habits, on and off the field, is to strive for rhythm. The quarterback is teaching us all about this rhythm to achieve healthy immunity."
This balance is what the Global Health Olympics™ is all about. "You will learn to take care of your health and train yourself and learn to live with others. Learn your everyday habits. Wash your hands (https://www.housebeautiful.com/lifestyle/a31903011/black-paint-white-gloves-viral-video-shows-hand-washing-technique) several times a day and wash your face twice a day, morning and night. And remember that the food you eat is your natural medicine."
When asked what she is learning about immunization during the COVID-19 pandemic, Bonney replies, "The importance of self-care. Part of your immunity protection is your nutrition and daily diet. Clean water is very important, too," Bonney continues. "Where I live, tap water isn't clean, so it's important to have a good filtration system." Bonney goes on to explain that there is a lot of water in vegetables and fruit. "I will go to my grave," Bonney declares, "saying that we need to eat more vegetables and fruit every day. Our GI tract is the second brain of our body. Healthy nutrition is the best way to have a healthy immune system."
When asked by host Sharon Kleyne what she would like to leave the listening audience thinking about, Bonney replies, "Start each day with a big glass of water. Incorporate fruit and vegetables into at least 50 percent of your daily food intake. Make effort to eat a plant-based diet. That means 80 percent to 90 percent fruit, vegetables, beans and nuts, some high-quality meat and little or no dairy. That's what boosts the immune system."
Kleyne personally recognizes the first responders, clerks, farmers, truckers, medical personnel, sanitation engineers, scientists, researchers, planners and others who are helping so many people during this worldwide health and immunity crisis.
Kleyne also reminds everyone not to forget the children of the world. "Hold a child's heart in your hands," says Kleyne.
*
You can listen to Sharon Kleyne's internationally syndicated The Power of Water® & Your Health sponsored by Nature's Tears® EyeMist® on VoiceAmerica with Program Director Rose Hong of Global Dragon TV featuring Pamela Bonney MS, RDN, CDN, FAND. Pamela Bonney who is working for her doctorate in diet and nutrition. Pamela Bonney educates for diet and nutrition to be the next medicine for immunity protection. The Global Health Olympics™ Water Life Science® founder and evaporative dry eye researcher Sharon Kleyne as they discuss nutrition, water, pandemics, viruses, infectious disease, proactive care, education and evaporation, follow this link:
https://www.voiceamerica.com/episode/122945/how-to-protect-our-frontline-healthcare-professionals
You can also tune in to recent talk radio shows with Kleyne featuring Kevin Kearns (https://www.voiceamerica.com/episode/122821/how-to-keep-kids-strong-and-healthy-to-fight-coronavirus) and Rodrigo L. Romulo, M.D. (https://www.voiceamerica.com/episode/122421/encore-infectious-disease-101-the-fundamentals-of-controlling-and-fighting-infectious-disease).
*
If you would like to watch a brief, entertaining educational film that demonstrates the application of the new Dry Eye Solution® technology Nature's Tears® EyeMist®, sponsor of Sharon Kleyne's talk radio program, go here: https://www.youtube.com/watch?v=l0gOr8TB45U