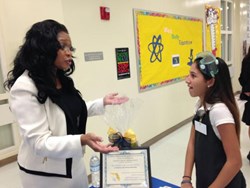 "I attended the Innovative Leadership talk you gave at Stanford University on October 22nd and I was very impressed with your accomplishments and the way you motivate today's young generation of innovators." - Roman Piszcz
Orlando, FL (PRWEB) November 05, 2013
Initiatives in STEM at UCF will feature Dr. Pamela McCauley Bush as part of the EXCEL Women's Mentoring Network Series for G.E.M.S. (Girls Excelling in Math and Science) on November 19th, from 6 pm - 7 pm at the EXCEL/COMPASS Center. Dr. Bush will share both her personal and professional experiences as a woman and engineering expert, detailing strategies for educational and professional success.
Dr. Bush will also be the featured speaker as part of the T.I.M. Works (Tomorrow's Investment Matters) A Pinky Promise Affair, a fundraiser to further efforts in mentoring middle and high school aged students in Orange County Public Schools.
The Gala, hosted at Winter Park Garden Club, from 7pm to 9 pm on November 16th, will include a gourmet breakfast under the stars. Radio personality Monica May will serve as the Mistress of Ceremonies. Tickets are $45 and proceeds from this event will be used toward ACT/SAT college entrance exams, college tours, and job shadowing opportunities for students in Central Florida.
Motivated by her own experiences and the growing need for leadership and innovation in America, particularly among women and STEM professionals, Dr. Bush used a research based approach to author Transforming Your STEM Career Through Leadership and Innovation: Inspiration and Strategies for Women. Dr. Bush will draw from these proven studies and principles, combined with inspirational anecdotes, as part of her dynamic Innovative Leadership: Leaders of Innovation keynote address to the African American Resource Group (AARG) at Harris http://harris.com/ on November 21st in honor of their 2nd Anniversary Building Bridges Celebration.
As a Martin Luther King, Jr. Visiting Professor of Aeronautics and Astronautics at the Massachusetts Institute of Technology (MIT) and a Fulbright Specialist, Dr. Bush has received numerous awards in recognition of her professional accomplishments and community outreach efforts in the business, technology and education communities.
For more information on Professor Bush, please visit http://www.pamelamccauleybush.com or contact Liza Lee lizalee(at)transformingyourstemcareer(dot)com.