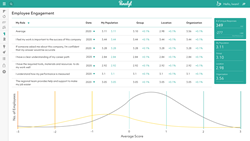 "It is very gratifying to have Panalyt acknowledged by Gartner as a Cool Vendor. We are wholly focused on giving line managers & HR partners access to their integrated people data to enable better people decisions, for better employee experiences & business outcomes." - Daniel West, Panalyt CEO
SINGAPORE (PRWEB) May 11, 2021
Panalyt, a leading global People Analytics vendor, has been featured as a Cool Vendor by Gartner in their 26 April 2021 report on "Cool Vendors in Human Capital Management: Technology Innovations to Support the Future of Work"(1).
Panalyt is extremely delighted to be both the only People Analytics vendor and the only company headquartered in Asia featured in the Gartner report.
Gartner's report on Cool Vendors in Human Capital Management: Technology Innovations to Support the Future of Work recognises HR Technology vendors who are solving fundamental issues that need to be addressed as organizations rapidly and radically adapt to changes in the usual ways of working and embrace talent management trends which have been accelerated by the pandemic .
How we work has undergone tectonic shifts only accelerated by recent events. People leaders must make bold choices today, leaders need to understand what the future may hold through metrics that can help them anticipate risks, inform strategy, and prepare for the future of work, the workforce, and the workplace.
Panalyt has been empowering several global enterprises through the pandemic to leverage data collected across the employee lifecycle to understand how and where to rethink talent management when transitioning to remote work and hybrid operating models.
Integrating insights across HR, productivity and digital collaboration data has allowed Panalyt's clients to proactively identify risks and possible interventions across the remote employee lifecycle to drive improved business and employee outcomes such as improved productivity, innovation, inclusion and wellness.
According to Gartner, the insights generated by Panalyt help leaders improve the performance, experience and well-being of their teams through an improved understanding of their team's engagement, retention risk, way of working, extent and degree of connection within their networks and operational performance.
Panalyt Founder and CEO, Daniel J. West, commented;
"It is very gratifying to have Panalyt acknowledged by Gartner as a Cool Vendor. At every step we've prioritized the every-day HR and business user, drawing on our backgrounds in practical HR-business partnering. We are wholly focused on giving line managers and HR partners access to all of their data, from all their systems and files, integrated and accessible to help them make better people decisions, for better employee experiences and better business outcomes. Panalyt democratizes data to bridge the People Data gap between siloed tools and practical, data-driven solutions."
In addition to being featured as a Gartner Cool vendor, Panalyt was also named by Yano Research Institute Ltd. in its "Human Capital Management Market (HCM) 2021"(2) report as a "HR technology needed in the New Normal era".
Yano Research Institute analyzed that the rapid spread of remote work due to the COVID impact has made companies aware of the issues they face in grasping employee performance, health condition, and engagement under this new work environment. The study highlighted that People Analytics will be critical in solving these new business issues.
Yano Research Institute further commented that COVID has highlighted an opportunity and encouraged change, and that this trend of investing in operational efficiency, DX promotion, and strategic HR planning will continue into 2022.
1 Gartner " Cool Vendors in Human Capital Management: Technology Innovations to Support the Future of Work" Ranadip Chandra, Jason Cerrato, Chris Pang, Helen Poitevin, Sam Grinter 26 April 2021
2 Yano Research Institute Ltd. " Human Capital Management (HCM) Market 2021" Yano Research Institute 30 April 2021
Gartner does not endorse any vendor, product or service depicted in our research publications, and does not advise technology users to select only those vendors with the highest ratings or other designation. Gartner research publications consist of the opinions of Gartner's research organization and should not be construed as statements of fact. Gartner disclaims all warranties, expressed or implied, with respect to this research, including any warranties of merchantability or fitness for a particular purpose.
About Panalyt
Panalyt bridges the People-Data Gap, enabling real-time, uniform access to relevant people data, reports and insights for CxOs, HR and business managers.
​
People data, including employee interactions and connections is combined with business data, catalyzing new insights and intelligence.
Predictive analytics moves the business from reactive to proactive, identifying correlations and points of intervention.
​
The People Enhanced Data movement empowers businesses to leapfrog to data-driven HR decision making, eliminating bias and improving engagement, sales effectiveness, productivity and, as a result, business performance.
Learn more at http://www.panalyt.com or follow us on LinkedIn @ Panalyt
Media Contact
Yusuf Raza
Panalyt
yusuf@panalyt.com
Source Panalyt
Related Links
More details on Panalyt Gartner Feature https://www.panalyt.com/post/gartner-cool-vendor-2021
Panalyt Overview: https://www.panalyt.com/
Panalyt Relational Analytics Overview: https://www.panalyt.com/ona
Yano Japan HCM 2021 Report (Behind Paywall) https://www.yanoresearch.com/market_reports/C62127600?returnPage=%2Fmarket_reports%2FsearchMr.php%3Fsearch_class%3D0%26search_keyword%3DHuman%2BCapital%2BManagement
Gartner 2021 Cool Vendors in HCM Report (Behind Paywall): https://www.gartner.com/en/documents/4000925-cool-vendors-in-human-capital-management-technology-inno