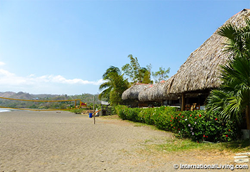 This is a place where you gain genuine bang for your buck. Panama uses the US dollar, in fact, and so it's easy to see, day-to-day, how your greenbacks stretch.
BALTIMORE (PRWEB) January 08, 2019
Panama takes the top spot in InternationalLiving.com's 2019 Annual Global Retirement Index.
It topped the categories of Benefits and Discounts, Visa and Residence and tied for first place in Governance and Development while scoring well in the Healthy Lifestyle, Entertainment and Amenities, and Opportunity categories.
"Panama offers an easy answer to retirement overseas," says IL Executive Editor, Jennifer Stevens. "With two coastlines, good-quality healthcare, and a first-class, cosmopolitan capital city, it's no surprise to us that Panama tops International Living's 2019 Annual Global Retirement Index this year. It truly has everything you could need for a healthy, fulfilled, and happy retirement—plus, it sits outside the hurricane belt.
"And this is a place where you gain genuine bang for your buck. Panama uses the US dollar, in fact, and so it's easy to see, day-to-day, how your greenbacks stretch. A couple can live very comfortably for $1,700 a month. It's hard to do that in the States these days."
For a small country, it packs a real punch. But what makes it really special from the expat retiree's point of view is its Pensionado program.
"Panama's Pensionado program deserves the praise it gets," says Jessica Ramesch, IL Panama Editor.
"It offers foreign pensioners an easy 'in' to becoming legal residents of Panama. In fact, the program is so welcoming, it's ranked as the world's best by International Living's annual Retirement Index. Year after year, Panama takes the number one spot in the index's Benefits and Discount and Visas and Residence categories.
"To apply as a foreigner, you simply have to show proof of a verifiable pension—corporate or government—of at least $1,000 a month. If you're applying with a spouse, you need only prove that you receive a combined total of at least $1,250 a month—that's what the Panamanian government deems sufficient for you to live a good life here."
The program also grants discounts to seniors on a wide range of goods and services, from medical consultations and prescriptions to movie tickets and meals—there are even specific lines marked pensionados to beat the queue.
As a retirement destination, Panama is simply outstanding, but it is also a business mecca—a place where expats who have big ideas for their retirement can explore their options. Major organizations and businesses from all over the globe come here to take advantage of low costs and the best strategic location for expanding into the Latin American and Caribbean markets.
"One of the best things about Panama is its business- and foreigner-friendly government," says Ramesch. "Panamanians are accustomed to foreigners and they welcome them with open arms. Increasing numbers of North Americans, Europeans, and others are moving here. Some come in search of adventure or a quality retirement destination, and many continue to take advantage of all Panama has to offer as a business destination.
"Since 2003, Panama has had one of the world's fastest-growing economies, expanding an average of 8.4% between 2004 and 2013. Despite slowing due in part to a weakening of global growth, it continues to lead the region in 2019.
"Most expat residents will tell you they feel safe here, in large part thanks to the business-friendly, stable government. There's excellent healthcare, top-notch internet and cell service, and Panama is relatively close to the States."
The U.S. is well-served with direct flights from Panama—folks could be back home for a quick visit within three hours. So, it's no shock that Panama is already an established expat favorite.
Panama provides affordable, good-quality healthcare, anchored by the excellent clinics and hospitals in Panama City, which enjoys a top-notch reputation throughout Latin America. Clinics and hospitals are advantageously situated throughout Panama, however, and so it's rare that retirees find themselves based more than an hour from a modern facility.
"Whether it's at the Johns Hopkins-affiliated Punta Pacífica hospital in Panama City or one of the other four major hospitals across the country, care is first-rate," says Jennifer Stevens.
"More than that, though, it's personalized and unhurried. And expats living there report that it comes with a commitment to caring for you as a patient that often feels like it's lacking in North America, where care nods more often to cost-counting and time-saving. Expats tell us, 'When doctors in Panama ask how you are, they really care about the answer.'"
Expat Jim Gault can vouch for the high level of care he and his wife, Abbe, have received in Panama since they moved to Pedasí, on the country's west coast. When Jim had to consult a cardiologist, the care he received was, in his own words, "top notch."
But that's not what impressed Jim most. It was the fact that the doctor spoke excellent English, was willing to discuss a care plan and medication options, and, best of all, gave Jim his cellphone number, with the instruction to call him at any time if he wasn't feeling right.
"He gave me something my wife and I desperately needed to help with our fears: hope and confidence," Jim says. Americans might expect that sort of unhurried care to be expensive, but that's not the case. Jim got an electrocardiogram, consultation, prescription, and care plan for what he might reasonably have expected just one of those items to cost in the States. "Total cost for the visit and EKG, with Pensionado discount, was $120. Now, that's an excellent healthcare experience at a fraction of U.S. prices," says Jim.
On top of that, sunshine is year-round in Panama, with a mild, tropical climate, which means expats can get out in the open any day of the year and never worry about ice, snow, or even hurricanes.
While Panama wins the top spot in this year's annual Global Retirement Index, it's just one of 25 countries examined in 13 categories, including: Buying and Investing, Renting, Benefits and Discounts, Visas and Residence, Cost of Living, Fitting In, Entertainment and Amenities, Healthcare, Healthy Lifestyle, Development, Climate, Opportunity, and Governance.
Since 1979, InternationalLiving.com has used a widespread network of editors, correspondents, contributors, and contacts based around the world to accumulate the information, data, and insights used to prepare this Annual Global Retirement Index.
The main role of the Index is to help retirees find locations where their dollar goes further—where they can get the best value for money in terms of cost of living, housing, and overall quality of life.
A comprehensive account of how Panama soared to claim the top spot of the 2019 Global Retirement Index, along with links to the complete International Living 2019 Global Retirement Index can be found at: Panama: The World's Best Retirement Haven 2019
Editor's Note: Members of the media have permission to republish the article linked above once credit is given to Internationalliving.com
Further information, as well as interviews with expert authors for radio, TV or print, is available on request. Photos are also available.
For information about InternationalLiving.com content republishing, source material or to book an interview with one of our experts, contact PR Managing Editor, Marita Kelly, +001 667 312 3532, mkelly@internationalliving.com
Instagram: https://www.instagram.com/internationalliving/
Twitter: @inliving — https://twitter.com/inliving?lang=en
Facebook: https://www.facebook.com/International.Living/
About International Living
Since 1979, InternationalLiving.com has been the leading authority for anyone looking for global retirement or relocation opportunities. Through its monthly magazine and related e-letters, extensive website, podcasts, online bookstore, and events held around the world, InternationalLiving.com provides information and services to help its readers live better, travel farther, have more fun, save more money, and find better business opportunities when they expand their world beyond their own shores. InternationalLiving.com has more than 200 correspondents traveling the globe, investigating the best opportunities for travel, retirement, real estate, and investment.