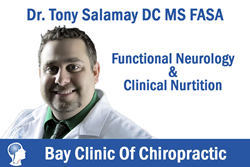 Most people don't know how their bodies function, let alone the cause of their dysfunction. It is important to note that you don't have to feel or be sick to detect dysfunctions in the body."
(PRWEB) August 27, 2017
Top Panama City Nutritionist & Chiropractor, Dr. Tony Salamay invites everyone to come to the presentation to sort out the truth from the hype when it comes to nutritional supplements.
With their increasing popularity, there's far more misinformation out there about nutritional supplements than verified, medically sound advice. On TV and in every corner of the internet, hawkers claim that this supplement can do this or do that, cure every ailment or restore years of health to the body. It's only after investing huge amounts of time, effort, and money that most people learn which claims are only empty promises.
Even worse, so many of the advertisements disguised as medical advice provide conflicting information across different media, so the same substance that one source claims is a panacea is decried as toxic by another.
Is there any truth out there? Do the nutritional supplements yield the effect they claim to do or is it all just hype? Fortunately, at The Bay Clinic of Chiropractic, Dr. Salamay puts his expertise to the matter to help his patients sort out the fact from fiction to discover just what supplements and dosages are right for their specific physiologies.
According to Dr.Salamay, the number one reason is that people use supplements to control or manage a symptom. Although this can help, at best this kind of treatment is only temporary. It is really no different than using a drug to alleviate a symptom; however, the difference is that the likelihood of side effects is much less, he explains, since supplements are all natural.
"The missing piece here," says Dr. Salamay, "is the word 'function.' Most people don't know how their bodies function, let alone the cause of their dysfunction. It is important to note that you don't have to feel or be sick to detect dysfunctions in the body."
One of the most proven methods of testing for function is laboratory testing. Most common is blood testing, but there are other laboratory tests such as urine, hair and saliva. Each test has its advantage over the other, and each tests for different things.
"Ideally, it is best to get that done by a doctor who is looking at restoring function and health and not just trying to cover up symptoms," Dr. Salamay advises. "Also, the ranges differ with functional levels. Those are tighter ranges that are reflective of health, not disease.
"This is so important because when you understand what the supplements do in terms of how they promote healthy function, you can match that to the weak point of your own body based on its dysfunction. Voila! It's that simple."
Although Dr. Salamay's functional process may not be as exciting as the common medical mantra of take this pill and you'll drop your weight by ten pounds in a week, he urges his patients to consider their whole health over the long term over short, unsustainable gains. Rather than offering a magic potion, his clinic focuses on determining why a patient's metabolism is stuck to begin with and determine the correct supplement to correct for deficiencies and promote sustainable wellness.
"Let's say your thyroid is off or sub-optimal," Dr. Salamay suggests. "There are plenty of natural supplements that will turn the thyroid on. This will ensure effective and steady weight loss over a period of time. Some examples would be tyrosine, iodine, selenium, gugul lipids, and vitamin D, which are effective for thyroid disorders. Depending on your thyroid pattern of imbalance, these supplements can help or be counterproductive, or sometimes even harmful!"
However, Dr. Salamay urges people to recognize the complexity of the issue. "Painting things with a broad brush and saying these thyroid supplements will help you lose weight is leaving a lot of truth out of it. This is exactly why nutritional supplements fail people: they think a specific supplement will work for them because they worked for this or that person, while in reality, every body is different and needs different things.
"To put a fine point on it: nutritional supplements will work best when you understand how they work and how well they will work in your body based on where your weak points of dysfunction are. I don't want you to be wary of taking nutritional supplements, but to get the most out of them."
Dr.Salamay is considered one of the best chiropractors in northwest Florida. He operates the Bay Clinic of Chiropractic, an advanced chiropractic and nutritional facility in Panama City, Florida.
Contact:
Dr. Tony Salamay
Bay Clinic of Chiropractic
520 N MacArthur Avenue
Panama City, FL 32401
(850) 785-9372