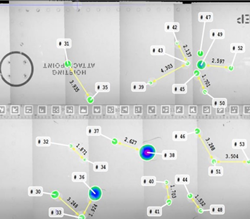 "Using the 8tree scanning technologies allows us to deliver highly accurate information much more quickly than previously possible using traditional methods." said Sean Gavin, SVP of Panasonic Technical Services.
CONSTANCE, Germany, RANCHO CUCAMONGA, Calif. and IRVINE, Calif. (PRWEB) April 26, 2022
Panasonic Avionics Corporation (Panasonic Avionics) and 8tree today announced an expansion of their relationship and availability of the dentCHECK® dent-mapping and reporting service. The expanded service will now include support for Large Area Dent Mapping at customer locations. This builds on the existing Ad Hoc dent-mapping services offered at Panasonic Technical Service (PTS) regional line stations at Los Angeles International Airport (LAX) and London Heathrow (LHR) area airports.
The introduction of large area dent mapping service is particularly suited to hail damage scenarios and follows a series of very successful service jobs completed by Panasonic Avionics and 8tree. In the aftermath of an extreme hail event in Roswell, New Mexico late last year, several severely damaged wide-body aircraft – as many as a thousand dents each – were inspected using dentCHECK's large area panoramic mapping feature. A comprehensive itemized digital report, containing key damage metrics, were completed in days, as opposed to the months it would have taken with traditional manual methods.
This service offering will allow Panasonic Avionics customers yet another convenient, accurate, and efficient way to protect their commercial aircraft investment, avoiding unnecessary costs and time delays. Further, the service will complement PTS's existing line of best-in-class products and services, continuing its history of being a premier MRO service solution provider.
"We are pleased to announce the expansion of our relationship with 8tree," said Sean Gavin, SVP of Panasonic Technical Services. "Using the 8tree scanning technologies allows us to deliver highly accurate information much more quickly than previously possible using traditional methods. This allows our passenger and cargo airline customers to make very timely, data-driven, operational decisions. Our global network, combined with 8tree technology creates a high-value, cost-effective service for dent mapping and aircraft safety solutions."
"After the incredible results in Roswell last year, expanding the scope of our dentCHECK service relationship with Panasonic Avionics was a natural choice", said Arun Chhabra, CEO of 8tree. "Operators will benefit from the faster, more efficient mapping of catastrophic hail damage, allowing them to make more informed decisions about aircraft serviceability and return to service, while alongside building more robust aircraft records. Working with the Panasonic Avionics team to deliver this large area mapping service, we look forward to seeing operators return their aircraft to service faster and with greater confidence."
Panasonic Avionics supplies and services in-flight entertainment and connectivity (IFEC) systems. The company's customer base includes more than 300 airlines located across the globe. PTS provides spares and repairs, line maintenance, and technical services at more than 50 locations globally. PTS' customized solutions are designed to ensure equipment serviceability at the lowest possible through-life cost.
About Panasonic Avionics Corporation
Panasonic Avionics Corporation is the world's leading supplier of in-flight entertainment and communication systems. The company pioneered the industry beginning in 1979 and has consistently introduced innovations that enable unique customer experiences and enhance airline loyalty (NPS), ancillary revenue, and operational efficiency.
Leading airlines across the world have chosen to install Panasonic Avionics IFE systems on more than 15,000 commercial aircraft and satellite Wi-Fi connectivity on over 3,400 aircraft. Panasonic Avionics' proven systems power approximately 70% of the global IFE-equipped fleet and is supported by the largest, global support and services team utilizing OEM insights to ensure peak system performance.
Panasonic Avionics Corporation is headquartered in California with over 3,500 employees and operates in over 50 locations around the globe.
For additional information, please visit http://www.panasonic.aero.
About 8tree
"We make precision 3d measurement as simple as taking a photo"
With this vision in mind, 8tree makes 3D optical surface inspection tools that solve chronic problems for multiple industries – including dent-mapping for aviation. 8tree's products empower every operator – from mechanics on the floor, to engineers in the lab – with actionable precise measurements, portability and performance. With its patented user-centric product design and instant 'go/no-go' answers, 8tree is committed to making precision 3D scanning more broadly accessible – technically and commercially.
For more information, visit http://www.8-tree.com/.
For recent news follow 8tree on LinkedIn, https://www.linkedin.com/company/8tree