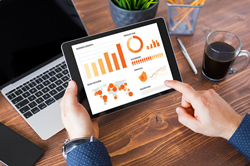 You can't afford to depend solely on the past for answers to these questions. You need real, up-to-date data to take the place of guesswork, so you aren't flying blind," Helms says.
TAMPA BAY, Fla. (PRWEB) May 26, 2020
The novel coronavirus crisis has abruptly upended the operations and behaviors of both businesses and consumers—with such changes seemingly just the beginning. One poll from industry experts expects the U.S. economy to shed 21.85 million jobs in April—by far the largest number on record.(1) On March 20, Goldman Sachs found a haunting prediction of nearly a 24% decline in GDP in this year's second quarter.(2) "The numbers don't lie," says Karla Jo Helms, the Chief Evangelist and Anti-PR Strategist for JoTo PR Disruptors. "No other event save the Great Depression has hit our economy harder than COVID-19."
Despite the crisis, many businesses are struggling just to hang in there. For instance, the need for social distancing has demanded companies to make a major shift in how they conduct business—sending employees to work from home and altering the way their consumers access products/services.
"But that's a minor problem when you consider that your clientele that's still around is spending their money elsewhere, and still others have shuttered their doors, unable to withstand the seismic shift that the global pandemic has wrought upon us all," Helms says.
For Helms' own company, she notes three specific industries that she has seen major downturns in: healthcare, finance, and information technology.
In the healthcare sector, consumer spending plummeted at an annualized rate of 18% in the first three months of this year, helping drive an annualized 4.8% drop in first-quarter GDP—the worst performance since the Great Recession. The field also shed 43,000 positions in March, with big declines shown at dentists' and physicians' offices. Health systems are projected to sustain more than $202 billion in losses between March 1 and June 30, according to a report released by the American Hospital Association.(3)
Impacts revolved around the financial industry are largely on the minds of Americans amidst COVID-19—with 71% concerned about the pandemic's financial implications, including effects on results of operations, future periods and liquidity and capital resources.(4)
In information technology, one Glassdoor report said that tech industry job openings posted on the site dropped roughly 20% between March 9 and April 6. More specifically, Glassdoor's monthly "Job Market Report" stated that job openings in "information technology" dropped from nearly 174,000 on March 9 to around 152,000 on April 6 while "computer software and hardware" job postings dropped from just under 176,000 to about 128,000 during that timeframe—both proving to be a staggering decrease.(5)
"With no definitive end to this crisis in sight, we've been forced to take a long, hard look at how we've been conducting business for decades and admit that those days are over," Helms says. "Let's face it—none of us planned for a pandemic that would create wholesale changes to our entire society. But now here we are, and the decisions you make today can either secure your company's future or spell disaster."
This is where the importance of recognizing the market and its audience comes in, Helms stresses. With this, businesses should move forward by analyzing changes with their target audience in order to make adaptations, she says, noting several questions companies should be asking themselves:

Consumers have changed their spending habits—do businesses even know if their products or services are still relevant to their customers?
What services are consumers wanting, and what new solutions can businesses provide for these different needs?
What is the message that will resonate with consumers and bring them back?
With these kind of questions, businesses are setting themselves up to have a better understanding of both the market and its audience in order to best represent the brand as the ongoing crisis continues. Additionally, Helms notes that her company has seen "immense value" when it comes to conducting market research for measures of both ROI and reputation.
"You can't afford to depend solely on the past for answers to these questions. You need real, up-to-date data to take the place of guesswork, so you aren't flying blind," Helms says. "Those answers come from doing the market research to rediscover your audience—find out what people are thinking about your industry, products, and your company."
About JoTo PR:
After doing marketing research on a cross-section majority of 5,000 CEOs of fast-growth trajectory companies and finding out exactly how they used PR, how they measure it and how they wanted the PR industry to be different, PR veteran and innovator Karla Jo Helms created JoTo PR and established its entire business model on those research findings. Astute in recognizing industry changes since its launch in 2009, JoTo PR's team utilizes newly established patterns to create timely PR campaigns comprising both traditional and the latest proven media methods. This unique skill enables JoTo PR to continue to increase the market share and improve return on investment (ROI) for its clients, year after year—beating usual industry standards. Based in Tampa Bay, Florida, JoTo PR is an established international public relations agency. Today, all of JoTo PR's processes are streamlined PR services that have become the hallmark of the JoTo PR name. Giving hope and help to meaningful and purposeful businesses is what makes JoTo PR motivated to impact the world positively and for the optimism to help more people. For more information, visit http://www.jotopr.com.
About Karla Jo Helms:
Karla Jo Helms is the Chief Evangelist and Anti-PR Strategist for JoTo PR. She learned firsthand how unforgiving business can be when millions of dollars are on the line—and how the control of public opinion often determines whether one company is happily chosen, or another is brutally rejected.
Being an alumna of crisis management, Karla Jo has worked with litigation attorneys, private investigators and the media to help restore companies of goodwill back into the good graces of public opinion—Karla Jo operates on the ethic of getting it right the first time, not relying on second chances, and doing what it takes to excel.
Karla Jo has patterned her agency on the perfect balance of crisis management, entrepreneurial insight and proven public relations experience. Helms speaks globally on public relations, how the PR industry itself has lost its way and how, in the right hands, corporations can harness the power of PR to drive markets and impact market perception.
1. Tappe, Anneken. "April Was Probably the Worst Month for American Jobs since the Great Depression." CNN, Cable News Network, 6 May 2020, cnn.com/2020/05/06/economy/april-jobs-report-2020/index.html.
2. Paumgarten, Nick, et al. "The Price of the Coronavirus Pandemic." The New Yorker, 13 Apr. 2020, newyorker.com/magazine/2020/04/20/the-price-of-the-coronavirus-pandemic.
3. Luhby, Tami. "Health Care Spending Has Actually Plunged in the Middle of the Pandemic. Here's Why." CNN, Cable News Network, 7 May 2020, cnn.com/2020/05/07/economy/health-care-downturn-coronavirus-pandemic/index.html.
4. PricewaterhouseCoopers. "COVID-19 and the Banking and Capital Markets Industry." PwC, pwc.com/us/en/library/covid-19/coronavirus-banking-and-capital-markets.html.
5. Whiting, Rick. "Tech Job Openings Plunged More Than 20 Percent As Coronavirus Crisis Deepened: Glassdoor." CRN, 16 Apr. 2020, crn.com/news/running-your-business/tech-job-openings-plunged-more-than-20-as-coronavirus-deepened-glassdoor.