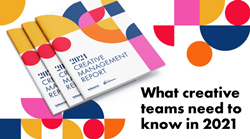 "Creative teams have experienced a profound change in the work environment. Some of these changes will grow into lasting trends: Working more with outside resources, like agencies and freelancers, refining the creative process, and becoming more data and metrics focused."
RALEIGH, N.C. (PRWEB) March 09, 2021
Creative and design teams are emerging from the challenges of the pandemic with fewer resources and greater demands for creative work, according to a new study. However, creative teams showed remarkable adaptability, learned new technical skills, and increasingly partnered with outside creative agencies and freelancers. In the process, they've gained a higher standing in business, which relied on their expertise to support the remote work transformation.
These findings were revealed in the new 2021 Creative Management Report by inMotionNow, a leading provider of marketing resource management (MRM), and InSource, a professional association for creatives. The fourth annual survey polled more than 400 creatives and marketers to identify industry changes stemming from the last year, along with key creative trends to watch over the next 12 months.
Top challenges: speed, lack of resources, and volume
Respondents said the top three challenges they faced are the "speed at which they are expected to work" (73%), "having enough resources" (61%), and the "volume of demand" for creative content (59%).
Interestingly, survey respondents didn't identify "being seen as a strategic contributor" as among the top three – for the first time in four years. This suggests employers routinely consulted creatives for their design and communications know-how as they shifted to remote work.
Other results in the survey support this conclusion too. For example, nearly three-quarters (72%) of creatives say their priorities of work were modified: 65% said the type of content they were being asked to produce evolved and 60% said the tone changed. Both type and tone are reflective of the digital transformation amid a year in crisis.
Layoffs, budget cuts, but also creative ingenuity
A majority (58%) of creative teams say they were met with larger workloads last year – which speaks to the resource constraints they grappled with. These included experiencing "layoffs or furloughs" (31%) and "budget cuts" (31%) which eliminated some of the tech tools that facilitate creative work.
In spite of these setbacks, creatives brought problem-solving talents and adaptability to bear. According to the survey, more than half (57%) of creatives say they "became more productive." Further, two-thirds of respondents learned new skills such as digital interactivity, video, livestreaming, and podcasting – which proved pivotal to business continuity.
Re-thinking In-House vs. Agency
The talent trend has steadily tipped toward the in-house agency over the last several years. However, the pandemic's effects may have triggered a re-evaluation. While in-house creative teams still manage much of the work, the vast majority (86%) reported that they currently partner with agencies and freelancers. Further, in 2021 about one-third of teams are planning to increase the work they send to outside resources.
"I don't think the idea of in-house specialists held up to the pandemic test," said Jim Nicholas a Senior Creative with Florida Power and Light, a subsidiary of NextEra Energy Inc. Jim was one of five outside experts that contributed a written analysis to the survey report.
"We need people to be able to do a little bit of everything, because what we found from working remote is that when there is a need for a quick turn on something, or a large influx of work coming in, having a bunch of individual people who can only do specific, individual tasks is just going to cause backlogs," he added.
Indeed, when the survey asked creatives why they hire outside agencies, the top reason was access to specialized skills (64%). That was followed by a need for increased capacity (44%), help with developing strategy (24%), and, lastly, to get work done faster (20%).
Improved reporting and metrics
Creatives also refined their creative operations metrics (26%) to better understand – and justify to business leaders – their resource allocation. When asked why they re-doubled their focus on reporting, respondents said "to manage team capacity and resources" (57%), "plan for future needs" (51%), to foster "continuous improvement" (51%), and to "promote the value" creative delivers (44%).
Some of top metrics creatives are tracking include: "total projects completed" (68%), "total projects requested by person or department" (42%), "rounds of review to final approval" (39%), and "average time to complete by project type" (28%).
"The survey data suggests creative teams have experienced a profound change in the work environment this past year," said inMotionNow Director of Marketing Molly Clark. "Some of these changes will grow into lasting trends: Working more with outside resources, like agencies and freelancers, refining key aspects of the creative process, and becoming more data and metrics focused in order to speak the language of the business."
The full report is available for download here: 2021 Creative Management Report.
# # #
About inMotionNow, Inc.
inMotionNow is a leading provider of marketing resource management solutions for marketing and creative teams. inMotion ignite, the company's flagship product, drives alignment, delivery, and accountability among relevant stakeholders to achieve better content outcomes. The application allows project stakeholders to manage, track, and collaboratively review their projects in a centralized online environment that connects designers directly to Adobe with the inMotion Extension for Adobe Creative Cloud. With a user-friendly interface and dedicated customer success team, inMotionNow helps creative and marketing teams of every variety automate their workflow and do the work they love. For more information, please visit http://www.inmotionnow.com.
Media Contact:
Frank Strong
for inMotionNow
202-352-5920
frank@swordandthescript.com