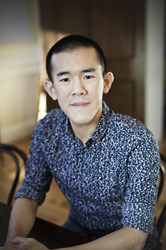 In a matter of months, a new coronavirus has humbled and humiliated the planet's most powerful nation.
SALT LAKE CITY (PRWEB) September 09, 2020
Ed Yong, science journalist for "The Atlantic" magazine, will break down what it's been like to report on the COVID-19 pandemic during Salt Lake Community College's featured annual Tanner Forum on Social Ethics. Mr. Yong will appear in the forum via virtual livestream, which is free and open to the public, on Oct. 13, from 7 p.m. to 8:30 p.m., to discuss the unique challenges of reporting on what he terms an "omni-crisis." Advanced registration is required for this event.
"In a matter of months, a new coronavirus has humbled and humiliated the planet's most powerful nation," said Yong. "America has failed to protect its people, leaving them with illness and financial ruin, and careening between inaction and ineptitude. The COVID-19 pandemic has been a generation-defining challenge that has left past vulnerabilities exposed and future possibilities unclear."
During the livestream event Yong will discuss how the United States got to this point of crisis due to COVID-19 and where America goes from here. For more information about this free event or how to register, visit http://www.slcc.edu/tanner.
Based in Washington, DC., Yong's work has been featured in "National Geographic," "The New Yorker," "Wired" and more. He has won a variety of awards, including the National Academies Keck Science Communication Award. "I Contain Multitudes," his first book, became a New York Times Best Seller and inspired an online film series, an anthology of plays and a clue on Jeopardy.
Funded in part by the O.C. Tanner Company, the Tanner Forum on Social Ethics brings nationally and internationally recognized speakers to SLCC. The forum enhances the college's mission as a community-based learning institution that provides opportunities for students, faculty, staff and the wider community to come together for the thoughtful examination of critical issues in contemporary social ethics.
Salt Lake Community College is Utah's largest open-access college, proudly educating the state's most diverse student body in 8 areas of study at 12 locations and online. In 2018, the institution celebrated 70 years of providing students with education and training in fields that contribute to Utah's vibrant economy and high quality of life. The majority of SLCC graduates transfer to four-year institutions, and thousands more are trained in direct-to-workforce programs.