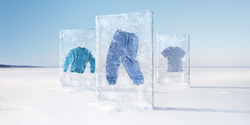 The Centric SMB solution is supporting our mission to create a fully-digitized product journey.
CAMPBELL, Calif. (PRWEB) March 30, 2021
Using technology to drive their Impact agenda, materials science company PANGAIA has selected Centric Software's Product Lifecycle Management (PLM) solution for emerging brands, Centric SMB. Centric Software provides the most innovative enterprise solutions to plan, design, develop, source and sell products such as apparel, footwear, sporting goods, furniture, home décor, cosmetics, food & beverage and luxury to achieve strategic and operational digital transformation goals.
The partnership will support PANGAIA's mission to fully-digitize their supply chain, helping to streamline processes, improve communication with suppliers and drive a more circular business model.
"As a materials science company, innovation runs through every strand of the PANGAIA business. This has never been truer for our supply chain and the adoption of the Centric SMB solution is supporting our mission to create a fully-digitized product journey, where our products can be responsibly sourced, managed and revalued, all within one platform. Creating efficiencies, greater transparency and improved traceability, this innovation is helping us realize our ambitious vision to become an Earth Positive business by 2023 – one which gives back more than it takes. " says Yael Gairola, CEO DTC, PANGAIA
"Centric Software is delighted to partner with PANGAIA and play such an integral part in their Impact strategy," comments Chris Groves, President and CEO of Centric Software. "We are excited to start this journey with such a forward-thinking and sustainably-focused company."
PANGAIA (http://www.thepangaia.com)
PANGAIA is a direct-to-consumer materials science company on a mission to save the environment. A global collective of one heart and many hands – scientists, technologists, designers – they are creating essential products from innovative and bio-engineered materials.