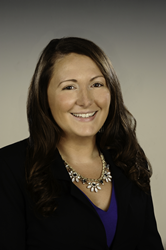 PHILADELPHIA (PRWEB) April 02, 2020
Panitch Schwarze Belisario & Nadel http://www.panitchlaw.com is proud to announce that Firm Administrator Krista Hart has been named president-elect of the Philadelphia chapter of the Association of Legal Administrators. Hart previously served as the organization's vice president of communications. https://www.phila-ala.org/chapter-leadership
In her new role, Hart will continue to serve on the chapter's board of directors, preparing to assume the position of president to ensure continuity of leadership. During her term, she will be responsible for assisting the president in fulfilling his or her duties and acting on behalf of the president when the president is unable to do so. She will attend all social events and organization meetings and will communicate regularly with regional representatives and the ALA headquarters, in order to keep the chapter's members apprised of all activities. She also will ensure that members uphold the ALA's Code of Professional Ethics.
As firm administrator, Hart assists Panitch Schwarze attorneys and staff with their workplace needs. She manages the administrative operations of the firm, including supervising all non-attorney personnel, evaluating and managing the firm's operating and information systems, performing the firm's human resources administration, overseeing the firm's finance functions, performing marketing functions and client development activities, and evaluating, managing and supervising the facilities of the firm.
Hart holds a bachelor's degree in business management and marketing from SUNY New Paltz and earned her SHRM-CP certification in 2017.
About Panitch Schwarze Belisario & Nadel LLP – Panitch Schwarze Belisario & Nadel LLP is a boutique intellectual property law firm with offices in Philadelphia and Wilmington, Delaware. The firm's IP law practitioners provide strategic litigation, licensing and counseling service relating to patents, trademarks, copyrights and trade secrets, domain names and internet issues domestically and internationally. The firm's long-standing relationships with a network of associates worldwide enable its attorneys and advisors to provide clients with global intellectual property advice and protection.