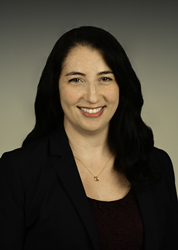 PHILADELPHIA (PRWEB) October 09, 2019
Philadelphia intellectual property law firm Panitch Schwarze Belisario & Nadel LLP is pleased to announce that it has hired Dr. Kayla Metzger, a registered patent agent with a doctoral degree in neuroscience.
Metzger, who specializes in patent related issues in the biotechnology arena, joins the team of intellectual property attorneys and advisors at Panitch Schwarze in the firm's growing life sciences practice. A patent agent registered with the U.S. Patent and Trademark Office, Metzger is experienced in the preparation, filing and prosecution of patent applications; and assists in due diligence, patentability and freedom to operate searches and analyses.
Prior to joining Panitch Schwarze Belisario & Nadel LLP, Metzger worked as a patent agent at other law firms. Her responsibilities included drafting, filing and prosecuting patent applications for a wide variety of biological and pharmaceutical technologies, performing due diligence and prior art searches, and analyzing patentability.
Before joining patent practices in the legal profession, Metzger served as Chief Scientific Officer for a start-up company focused on the genetic basis of disease. In that role, she led the scientific market research, grant writing, and patent portfolio prosecution, and presented work at the 2013 Consumer Genetics conference.
Metzger's work has been published in several leading scientific journals, including Biological Psychiatry, Psychopharmacology, and Neuron. She lives in Havertown, Pennsylvania. To learn more, visit the firm's website.
About Panitch Schwarze Belisario & Nadel LLP – Panitch Schwarze Belisario & Nadel LLP is a boutique intellectual property law firm with offices in Philadelphia and Wilmington, Delaware. The firm's IP law practitioners provide strategic litigation, licensing and counseling service relating to patents, trademarks, copyrights and trade secrets, domain names and internet issues domestically and internationally. The firm's long-standing relationships with a network of associates worldwide enable its attorneys and advisors to provide clients with global intellectual property advice and protection.