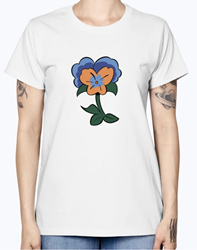 "It's been really great working with so many LGBTQIA+ artists and seeing their interpretation," says Elliot Wiersgalla, owner and founder of Pansy. "The only instructions I have given is the artwork needs to include a Pansy. So far, I'm in love all the submissions I have received."
KANSAS CITY, Mo. (PRWEB) January 06, 2020
Pansy is Kansas City's first and only marketplace, and soon to be community center and for-rent art studios, focusing on the LGBTQIA+ community. Pansy officially launched its online store, which offers Pansy-branded and select merchandise designed by LGBTQIA+ artists from around the world.
The first featured collaboration is from Kansas City artist, muralist, and designer Stephanie Bloss. That collection is available now online for a limited time.
The primary goal of Pansy's online store is to raise funds for a permanent location. The eventual brick-and-mortar store will offer a variety of goods created by LGBTQIA+ makers and artists.
"It's been really great working with so many LGBTQIA+ artists and seeing their interpretation," says Elliot Wiersgalla, owner and founder of Pansy. "The only instructions I have given is the artwork needs to include a Pansy. So far, I'm in love all the submissions I have received."
Kansas City has a focus on small business and local makers, however, there is currently no effort to highlight the LGBTQIA+ community or the work of LGBTQIA+ artists and makers. Pansy will give these artists a safe and affordable space to make and sell their work.
In addition to a marketplace and art studios, Pansy will offer a community center where there will be events focused on LGBTQIA+ topics. Events will include lectures, classes, and mindfulness exercises, among other things.
Pansy is currently crowdfunding to secure a location through a fiscal sponsorship with Fractured Atlas, a non-profit arts service organization. To contribute, please go to fundraising.fracturedatlas.org/pansy.
PANSY IS KANSAS CITY'S FIRST LGBTQIA+ MARKETPLACE, COMMUNITY CENTER, AND ART STUDIOS.
Pansy is encouraging artists from around the world to reach out if they are interested in collaborating on a featured collection. Interested artists and makers should visit http://www.pansykc.com to get in contact. For more information on Pansy, contact Elliot Wiersgalla at 715-533-0716, or email at elliot@pansykc.com.