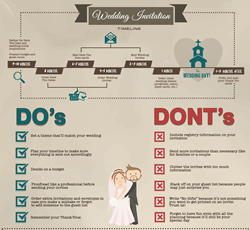 HAYWARD, Calif. (PRWEB) October 05, 2018
Making wedding invitations is arguably one of the more daunting tasks in wedding planning because, while the idea of the invitation is simple, all the decisions and time that go into producing one is not. It can be a pretty complex process, and not all brides or grooms may be up to the challenge of making their own wedding invites.
Fortunately, Paper and More has come up with a way to help those who are making wedding invitations. From the importance of having a timeline, to the assembly of the invitation suite with multiple inserts, this paper retailer's new infographic has some very helpful tips and steps that should make creating a wedding invitation less stressful and more fun.
The key takeaways from this infographic begin with the ever-important budget, and this goes hand in hand with some dos and don'ts in making the invitation. Designing tips, paper options, and printing options are also discussed in detail.
Accompanied by images that show exactly how an invitation can be worded and assembled, this infographic can prove to be very enlightening and engaging for even the most clueless soon-to-be-wedded couple.
About Paper and More
A one-stop shop for all sorts of paper, envelopes, and cardstock needs, Paper and More also provides custom cutting and corner rounding, as well as printing on its full selection of papers. With fast shipping, as well as discounts of up to 50 to 70 percent off on retail, Paper and More guarantees satisfaction to ensure customers a quick and worry-free shopping experience. For more information, visit http://www.paperandmore.com.