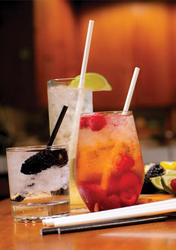 "Buy now and save 10% off any pallet order," says CLIENT. "Orders of three or more pallets always ship free!"
STOCKTON, Calif. (PRWEB) December 20, 2018
The findings are incontrovertible: plastic straws are harmful to the environment. Marine life such as sea turtles, sea birds, and other marine creatures are among the most negatively impacted by the plastic straws that find their way into their habitats—and their stomachs. Across America conscience-driven businesses and environmentally forward-thinking private consumers are taking a giant step back from plastic straws and investigating the real possibility of switching to eco-friendly paper straws. Some states have gone so far as to ban plastic straws entirely. But considering the scope of this impending switch, can supply meet the growing demand? Enter Green Planet Straws.
"We have plenty of inventory," says Kevan Johnston, CEO of Green Planet Straws. "We'll work with every client to guarantee supply throughout the upcoming year."
Green Planet Straws has addressed the issue of dangerous, non-degradable plastic straws by creating durable paper straws that are marine-degradable, compostable, and recyclable. Constructed of top-quality Forest Stewardship Council® (FSC) certified recycled paper, these sturdy, eco-friendly paper straws are made to last for the full duration of a single beverage enjoyment without growing soggy, collapsing, or disintegrating. Plastic straws are among the top single-use items made from plastic, and after their brief use, they often slip through the cracks of proper disposal and become the most prominent plastic trash polluting beaches. With Green Planet Straws, should a straw go rogue from its intended final resting place, it will naturally break down, wherever it lands.
The paper straws Green Planet Straws offer are not only durable and eco-friendly, but also fully customizable. Restaurants and retailers can choose their color and size and can also have their company name and logo printed on the straws. This paper straw company is keen to get its product into the hands of clients ready to switch to a greener alternative to plastic straws—so keen, in fact, that Green Planet Straws is offering retailers who act quickly the reward of a sweet deal for doing right by their planet.
"Buy now and save 10% off any pallet order," says Kevan. "Orders of three or more pallets always ship free!"