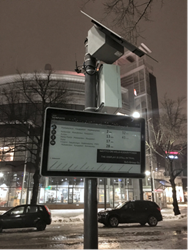 "The pilot aims to improve the user experience and the readability of passenger information at bus stops. The environmentally friendly Papercast e-paper displays also create a positive image of public transport and they're perfect for the Lahti European Green Capital 2021."
LAHTI, Finland and LONDON (PRWEB) April 19, 2021
Lahti Region Transport (LSL) has completed a trial of Finland's first public transport timetables using solar powered e-paper technology from Papercast, in a project managed by Lahti-based Sx3-Group.
LSL is the municipal authority responsible for local and regional public transport in the city of Lahti and the surrounding municipalities. Lahti has a shared green vision and aims to be completely carbon neutral by 2025. It has recently been voted the European Green Capital of 2021 in an initiative by the European Commission. The city is promoting the use of sustainable modes of transport and Papercast energy-efficient passenger information displays aligns with these green values.
Milja Kemppainen, Public Transport Planner of LSL: "The pilot aims to improve the user experience and the readability of passenger information at bus stops. The environmentally friendly Papercast e-paper displays also create a positive image of public transport and they're perfect for the Lahti European Green Capital 2021."
Papercast e-paper displays consume 30 times less energy than traditional schedule displays. The 32" e-paper monitors operate at 12 volts – including a small heating element and LED lighting – which allows them to operate on solar powered rechargeable batteries. This is rare in Finland's latitudes throughout the Nordic region.
Ilpo Pulli, CEO of Sx3-Group Oy: "In the Nordic countries, the coldness of winter and low sunlight create challenges for charging batteries with photovoltaics. However, the power consumption of Papercast e-paper displays is so low that we have now been able to overcome this hurdle for the very first time."
Bus stop screens commonly used in the Nordic countries are mains powered and Papercast has replaced LCD passenger information monitors at stops in the city centre. Now at the end of their service life, the renewal is part of the passenger information development project.
The screens show real-time passenger and route stop information as well as general information such as COVID-19 guidelines. LSL also use Papercast's award winning cloud-based content management system to monitor, control and update the displays. LSL has evaluated e-paper's suitability for sharing a wide range of real-time information to passengers at bus stops, while also testing sustainability in the Finnish climate.
In Lahti in winter, temperatures can drop below -25C with very short periods of sunlight in the middle of winter. In the height of summer, the sun doesn't set at all. Papercast suits the extremes of the Finnish environment – the low power consumption still supports solar power during the winter months and the excellent sunlight screen visibility is an advantage during the long sunny days.
The Lahti-based Sx3-Group services LSL existing LCD screens and has been working with traffic passenger information displays for 20 years.
ABOUT PAPERCAST
Papercast's next generation bus stop passenger information solution uses wireless solar powered e-paper displays, with a comprehensive content management system developed exclusively for public transport needs. The platform enables transport providers to effortlessly keep passengers informed on real-time and advance service information at bus stops in a clear and user-friendly format.
Share this story and follow Papercast on Twitter, LinkedIn, Facebook and YouTube
CONTACT INFORMATION
Kerry Marchbank
Marketing Manager
+44 (0)7817 916654
kmarchbank@papercast.com