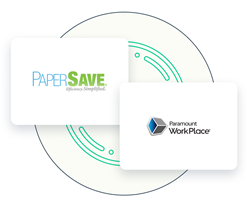 "Consistent growth across decades, loyal customers, cloud products and demand from Office of the CFO digitization make PairSoft the ideal opportunity for our capital and expertise to accelerate growth," said Joanne Yuan, Principal at Turn/River Capital. "We look forward to expanding its go to market
MIAMI and DETROIT (PRWEB) January 19, 2021
PaperSave® and Paramount WorkPlace, leaders in the Accounts Payable (AP) automation and procurement automation spaces respectively, today announced they have merged and secured a strategic investment from Turn/River Capital. PairSoft's union brings together two industry leaders to form the strongest procure-to-pay platform for the mid-market and enterprise, with close integration to Microsoft Dynamics, Blackbaud, Oracle, SAP, Acumatica and Sage ERPs.
PairSoft's deep ERP and workflow integrations enable mid-market and enterprise to save significant time and costs. PaperSave provides intuitive document management, contract management, workflow and AP automation functionality enhanced by OCR capabilities. Paramount WorkPlace brings robust web and mobile-based requisition, procurement, expense, and AP automation powered by artificial intelligence and OCR. This has attracted a diverse blue chip customer base across geographies and industries.
"The combined company creates a strong end to end finance department offering," said Stuart Rosenberg, Founder and President at WhiteOwl, the business process consulting firm that developed and sold the PaperSave assets to PairSoft. "Our customers can count on future product innovation and scale to further reduce costly manual processes."
In combining these two offerings, PairSoft enables users to gain real-time visibility and control over business spend; consolidate and automate purchasing, AP, and invoicing while eliminating data entry errors and paper-based processes and optimize supplier relationships. The two products complement and integrate with each other already, sharing a similar customer base, channel partners, and ERP integrations.
"Turn/River and PaperSave are ideal partners for Paramount WorkPlace," said Salim Khalife, Founder and CEO of Paramount WorkPlace. "We appreciate Turn/River's leadership style, operational expertise, and their track record of helping organizations like ours grow. With our combined solutions and talents, backed by Turn/River's growth operations team, the opportunity is unlimited. I have never been more excited in my 30 years as an entrepreneur."
"Consistent growth across decades, loyal customers, cloud products and demand from Office of the CFO digitization make PairSoft the ideal opportunity for our capital and expertise to accelerate growth," said Joanne Yuan, Principal at Turn/River Capital. "We look forward to expanding its go to market footprint and delivering more offerings on the PairSoft platform."
Paramount WorkPlace was advised by investment bank Canaccord Genuity. WhiteOwl was advised by legal counsel Foley & Lardner, LLP. Turn/River Capital was advised by legal counsel Orrick, Herrington & Sutcliffe LLP.
About Turn/River
Turn/River specializes in growth capital investments, founder liquidity, buyouts, spin-outs, and recapitalizations of technology, web, and SaaS companies. Its strategy is to combine rigorous, iterative marketing, sales, and operational execution with flexible capital to help companies double and triple their growth and build value for everyone. Turn/River Capital is headquartered in San Francisco. For more information, please visit http://www.turnriver.com.
About PaperSave
PaperSave is a complete document management, AP automation, electronic workflow and transaction automation solution. PaperSave's unique integration provides one click access to documents within Sage Intacct, Microsoft Dynamics AX, GP, SL, CRM, D365 Business Central, Blackbaud Raiser's Edge NXT, Blackbaud Financial Edge NXT, and Blackbaud CRM. Learn more at https://www.papersave.com
About Paramount WorkPlace
Paramount WorkPlace develops, sells, and supports advanced web-based and mobile requisition, Procurement, AP Automation, and Travel & Expense software solutions for mid-market and enterprise organizations. Trusted by global, national and local brands for its powerful capabilities, intuitive features and the option for a stand-alone andintegrated extension of Microsoft Dynamics GP, SL, AX, NAV and D365 Business Central; Sage ERP and Sage Intacct; Blackbaud Financial Edge NXT; Acumatica; and other major ERPs. Learn more at https://paramountworkplace.com