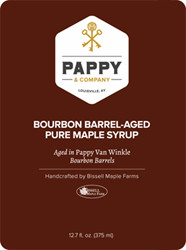 … you really can't know the richness and depth of flavor until you've tasted our Sugarmaker's Reserve syrup that's been aged in a 23-year-old barrel from the most exclusive bourbon available
Rock Creek, Ohio (PRWEB) June 22, 2015
Bissell Maple Farm, in collaboration with Pappy & Company, is launching the gourmet product, Pappy & Company Bourbon Barrel-Aged Syrup, at the Summer Fancy Foods Show, June 28-30, 2015. Held at New York City's Jacob Javits Center, this show is North America's largest specialty food and beverage event.
The new product is created by aging Bissell's top-quality Sugarmaker's Reserve™ syrup in rare, 23 year-old Pappy Van Winkle bourbon barrels. The result is a smooth and delicious limited edition Pappy & Company Bourbon Barrel-Aged Pure Maple Syrup.
Bissell Maple Farm starts with sap produced at the peak of the maple harvesting season, during a very specific window when the Red Maple and Sugar Maple trees are producing a limited quantity of pristine sap in equal amounts. The Sugarmaker's Reserve syrup produced from this sap is then aged 100 days in barrels that have been used for years to distill Pappy Van Winkle bourbon whiskey in Frankfort, Kentucky.
According to Pappy & Company's Carrie Van Winkle Greener, "We only work with other companies who share our same vision and commitment to quality over quantity. So working with Nate Bissell and Bissell Maple Farm came naturally."
Adds Louise Van Winkle Breen, "There are other barrel aged syrups out there, but to know the story behind this syrup, it being the best quality possible combined with the most iconic bourbon brand of our time, we know we have something rare and very special to offer."
The new maple syrup offers a smoky, smooth finish that transcends pancakes and waffles—it can be drizzled over ice cream, basted on pork tenderloin, glazed on strawberries, and more.
Says Nate Bissell, "You might think you know these flavors—the bourbon, the maple. They're really 'of the moment' right now with kitchens and chefs…but you really can't know the richness and depth of flavor until you've tasted our Sugarmaker's Reserve syrup that's been aged in a 23-year-old barrel from the most exclusive bourbon available."
About Bissell Maple Farm
Maple syrup is a time-honored tradition for the Bissell family, which has been making maple syrup in Northeast Ohio since the 1800s. Every year, extended family and friends come to the farm to help out with all aspects of maple syrup production: tapping trees, cutting fire wood, running the evaporator, making maple confections and performing live music for guests.
Using state-of-the-art technology and equipment, Bissell Maple Farm produces the Sugar Chalet brand of maple syrup and specialty maple products of the highest quality, meeting USDA standards and the certification guidelines of the Ohio Department of Agriculture. The products are also Kosher.
For more information about Bissell Maple Farm and Sugar Chalet's bourbon barrel-aged maple syrups, visit bissellmaplefarm.com, or call (440) 563-3263.