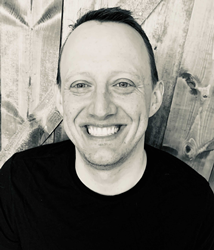 PORT WASHINGTON, N.Y. (PRWEB) February 09, 2021
Paradigm Sample is pleased to announce the addition of Adam Jolley to the Paradigm Sample Family as the EVP and General Manager for the Americas. Adam, who has over 14 years of industry experience, joins Paradigm from Survey Monkey where he was a Senior Key Account Executive. Adam cites this role for changing the way he looks at work as a whole and the growth he achieved there will be invaluable to the Paradigm Team. Prior to that, Adam held a series of leadership positions for over 13 years at EMI – Research Solutions.
At Paradigm Sample, Adam will be responsible for providing expert direction to the Sales Team and to further strengthen Paradigm's infrastructure and leadership. At its core, Paradigm is about finding new and untried ways to supply access to hard-to-reach, high quality audiences to support consumer and B2B research, but the thing that really drew Adam to the Team is our people, what Adam called "a family full of incredible individuals."
As Adam puts it, "I came to Paradigm because I truly believe in the technology, the agility of service from tech based to consultation, and the greatness of the people to top even my most lucrative goals for success."
"It's a time of considerable growth for Paradigm Sample, Adam is both a well-connected and highly respected leader in the MR industry. He will work to build out his team to accelerate our growth further and deepen our client relationships," said Cyrus Deyhimi, CEO. "We are excited to welcome Adam to Paradigm Sample's Executive Leadership Team."
ABOUT PARADIGM SAMPLE
Paradigm Sample, based in Port Washington, New York, founded by Sima Vasa and Robert Gray is an industry recognized market research solutions company that provides access to high-quality sample and a suite of services including producing technology solutions, survey design, programming, hosting, data analysis, and reporting.
For Press inquiries, please contact Suzanne Hasbrouck at Suzanne.hasbrouck@paradigmsample.com