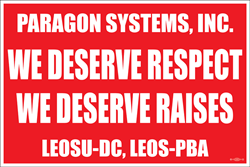 Martin Luther King jr Once Said "Injustice Anywhere is a Threat to Justice Everywhere. It's Time Paragon System RESPECT Its Officers & Our Union LEOSU-DC" Steve Maritas
WASHINGTON (PRWEB) October 23, 2018
A few weeks ago the Law Enforcement Officers Security Unions LEOSU-DC had met with Paragon systems Vice President and General Counsel Laura Hagan to discuss the Unions economic proposal.
Much to their surprise Paragon was not willing to give the protective service officers working at GSA ROB building a raise this year.
Within an hour of the news the Paragon protective service officers working at GSA ROB, reacted to the statement and Paragon's no raise position by calling for a call to action.
What happened next was a total of 18 officers called off work the next day in a show of solidarity.
While the law protects employees in regards Protected Concerted Activity, Paragon decided to take action against its officers by informing certain individuals not to report to work until further notice.
The LEOSU-DC immediately took action against Paragon by filing federal charges with the NLRB and sending out a mass email to GSA top officials from all around the country notifying them of the Unions intention to call a strike at GSA ROB building. Within hours of this mass email, the GSA ROB Paragon officers started to receive phone calls to return to work immediately.
The LEOSU-DC is now planning a walkout and informational picketing at the GSA ROB location sometime next week. In addition the Union is planning informational picketing at several other GSA and Homeland Security sites around DC & 26 Federal Plaza in New York where Paragon provides security services noted LEOSU-DC organizing Director Steve Maritas " As Martin Luther king Jr. once said "Injustice Anywhere is a Threat to Justice Everywhere.
The Law Enforcement Officers Security Unions LEOSU-DC is the authority of Law Enforcement Unions representing special police officers, protective service officers and campus police officers @ NASA HQ, Department of Transportation (DOT), Federal Aviation Administration (FAA), Federal Deposit Insurance Corporation (FDIC) Custom Border & Protection (CBP), National Transportation Safety Board (NTSB), Federal Law Enforcement Training Center (FLETC), GSA ROB Building, Georgetown University and Catholic University just to name a few.
For more information: http://www.LEOSUDC.ORG
CONTACT: Steve Maritas LEOSU-DC Organizing Director 202-595-3510
ADDRESS: 1155 F Street NW #105 Washington, DC 2004
SOURCE Law Enforcement Officers Security Unions LEOSU-DC, LEOS-PBA
Related Links
https://www.leosudc.org
https://www.linkedin.com/in/leosudc/
https://www.facebook.com/LEOSUNION/
https://www.flickr.com/photos/143026849@N06/
https://parasys.com
NLRB Charges filed 05-CA-227709
https://docs.wixstatic.com/ugd/8cc648_3fd7e5211a664f2986108d896e4bdb6a.pdf
https://docs.wixstatic.com/ugd/8cc648_7e9685e54e964e2c9a9bfde1ccb61d74.pdf