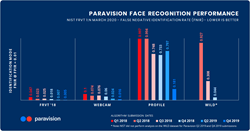 As a U.S. company, we are excited to deliver world-class face recognition capabilities and to be at the forefront of biometric accuracy, in particular across gender, race, and age."
SAN FRANCISCO (PRWEB) March 26, 2020
Paravision, the leader in mission-critical face recognition, announced today that with the latest release of the National Institute of Standards and Technology's (NIST) Face Recognition Vendor Test (FRVT) 1:N Identification report, it has delivered top-3 accuracy in multiple categories when ranked across the world's leading vendors in this rapidly developing space.
Published on March 24, NIST's new report on the performance of leading face recognition algorithms in identification (1:N) scenarios evaluated over 200 algorithms from 60 vendors on their ability to search through large collections of pictures to match an unknown face with an existing identity.
The report showed Paravision's strong and continually improving performance across several metrics, earning top ranks in particular on NIST's threshold-based matching and identification mode assessments. In these assessments, Paravision ranked as the #3 vendor worldwide (and #1 in the US, UK, and Europe) in matching faces in mugshots and webcam photos, and #1 worldwide in matching profile faces, turned 90° from the camera. In a newly added test, Paravision ranked #3 worldwide (and #1 in the US, UK, and Europe) in matching faces over aging periods of up to 18 years in both identification and investigation modes.
Since its first submission to the FRVT program, Paravision has consistently placed at the top of global rankings, while steadily improving algorithm performance with each successive submission. This current NIST report shows Paravision's strong present performance and demonstrates how much its algorithms have improved in a short time. Over the last two years, Paravision has moved from a top-10 to a top-3 ranking while false-negative identification rates have reduced by up to 95%.
"The NIST FRVT program is the gold standard of face recognition accuracy testing," said Charlie Rice, Paravision's Chief Technology Officer. "No other independent evaluation is as comprehensive or rigorous, and it serves as a great benchmark for us as we strive for excellence. As a U.S. company, we are excited to deliver world-class capabilities and to be at the forefront of biometric accuracy, in particular across gender, race, and age."
About Paravision:
Powered by AI and leveraging the latest advances in deep learning, Paravision's industry-leading face recognition software is trusted globally by security device manufacturers, solution providers, systems integrators, and financial services firms to deliver frictionless experiences and comprehensive security.
Paravision strives to continuously raise the bar for face recognition in accuracy, security, inclusion, and convenience, and is the only American company to rank in the top 10 in over 50 accuracy benchmarks across the 1:1 and 1:N NIST Face Recognition Vendor Tests.