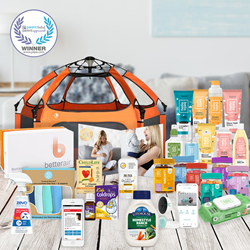 With retailers seeing less foot traffic, the ability to leverage a seal of approval is more important than ever
NEW YORK (PRWEB) September 15, 2020
Leading consumer product awards organization PTPA, dedicated to helping consumers find trusted products, announced today the recipients of their coveted Parent Tested Parent Approved Seal of Approval.
After rigorous testing by select members of PTPA's trusted community of over 200,000 the results are in. Award recipients include products that help families cope with the "new normal" and improve quality of life, while others take an environmentally conscious angle, according to PTPA. A new addition to the awards program includes The Top Product Award Category.
"With retailers seeing less foot traffic and more online traffic, the ability to leverage a seal of approval for products to help them stand out from the competition is more important than ever," said Sharon Vinderine, Founder & CEO of PTPA. "We're proud to include products in this round of winners that will help families as they navigate this 'new normal.'"
"From Vitamins by ChildLife Essentials and air purifiers from BetterAir, health is on our minds constantly. We are proud to include products that enrich the lives of families." Vinderine added. "All of the selected products have been recommended by consumers and have shown to live up to expectations and claims."
The full list of winners is below.
PTPA Fall 2020 winners:
Company: Ddrops
Winning product: Kids Coldrops
Company: MONA BRANDS, LLC
Winning product: MONA BRANDS All Natural Deodorant for kids
Company: ChildLife Essentials
Winning product: ChildLife Essentials Multi Vitamin SoftMelts
Company: Charlie Banana®
Winning product: Charlie Banana® 5 Diapers 5 Inserts My First Diaper One Size Hybrid AIO
Company: Litehouse
Winning product: Creamy Salad Dressings line
Company: The California Beach Co.
Winning product: The Pop 'N Go Playpen®
Company: Hello Bello
Winning products:
Hello Bello Premium Shampoo & Body Wash Gentle Sweet Cream
Hello Bello Premium Lotion Gentle Sweet Cream
Hello Bello Everywhere Balm
Hello Bello Diaper rash cream
Hello Bello Baby Powder
Hello Bello Baby Oil
Hello Bello Sleep Well
Hello Bello Organic Energy
Hello Bello Omega 3
Hello Bello Hair, Skin + Nails
Hello Bello Adult Stress Gummy Vitamins
Hello Bello Immunity Vitamins
Hello Bello Sunscreen
Hello Bello Grossy Nosey Wipes
Hello Bello Hand Sanitizer
Hello Bello Bug Spray
NEW! Top Product Awards Category:
Company: BookBub.com
Winning Product: BookBub.com website
Company: Kindred Bravely
Winning products:
The Bravely Labor and Delivery Gown
Seamless Sublime Nursing Bra
Company: BetterAir
Winning product: BetterAir Biotica800
Company: P&G
Winning product: Zevo Ant, Roach and Fly Multi-Insect Spray
Company: P&G
Winning product: Lumi by Pampers
How Winners Are Determined
Parents across North America participate in the testing process, at no cost to them. They evaluate the products with their families in real life environments rather than simply conducting a consumer vote which adds a trust component to the process. Their feedback and evaluations are carefully tallied and curated, and products that meet their standards earn the coveted PTPA Seal of Approval, which can be leveraged online on digital shelves, on packaging, advertising, end-cap displays, and more. News of the victory is shared among our community of over 200,000 families. The Parent Tested Parent Approved Seal of Approval ranks amongst the top most recognized seals in North America.
About PTPA Media Inc.
PTPA Media certifies innovative products that families can trust. By connecting manufacturers with consumers, PTPA Media helps companies serve their markets better, and helps families identify products that they can trust and recommend to their peers. For more information visit http://www.ptpa.com.