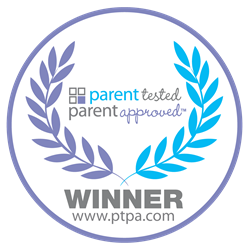 leveraging a seal of approval for your products to help them stand out from the competition is more important than ever
NEW YORK (PRWEB) June 09, 2020
Leading consumer product awards organization, PTPA Media, today announced recipients of their coveted Parent Tested Parent Approved Seal of Approval. After select testers from PTPA's community of over 200,000 parents rigorously tested products while quarantining, the results are in. The summer winners include products that help parents cope with the "new normal" and improve quality of life, while others take an environmentally conscious angle, according to PTPA. The full list is below.
"With many retail locations still closed and parents shopping online, the ability to leverage a seal of approval for your products to help them stand out from the competition is more important than ever," said Sharon Vinderine, Founder and CEO of PTPA Media. "We're proud to include products in this round of winners that will help parents in the 'new normal.'"
"The Prepackaged School Supply Program from Educational Products will help parents this summer continue at home learning," Vinderine added. "And TytoHome allows you to have on-demand physical exams via live video with a doctor using an exam camera, a basal thermometer, an otoscope, stethoscope and tongue depressor adapters. It's perfect for parents looking to avoid the doctor's office."
Full list of PTPA summer 2020 winners:
Company: Educational Products Inc.
Winning product: Prepackaged School Supply Program
Company: Tyto
Winning product: TytoHome
Company: The Green Beaver Company
Winning products:
Aluminum Free Antiperspirant
Kids Naturapeutic Toothpaste
Kids Berry Blast Bubble Bath
Natural Mineral Kids Sunscreen Spray, SPF 27
Company: SkinIntegra, Inc.
Winning product: SkinIntegra Rapid Crack Repair Cream
Company: Pampers
Winning product: Lumi by Pampers
Company: Andy Pandy Kids
Winning product: Andy Pandy Premium Bamboo Diapers
Company: My Audio Life
Winning product: My Audio Pet
Company: Ddrops
Winning product: Thinkmist® Prenatal
Company: Mum & You
Winning product: Mum & You Biodegradable and Compostable Plastic Free Baby Wet Wipes
Company: Cali White
Winning products:
Cali White Vegan B12 Infused Whitening Toothpaste
Cali White Charcoal & Organic Coconut Oil Teeth Whitening Toothpaste
Cali White Vegan Teeth Whitening Kit
Company: Dyson
Winning product: Dyson Pure Humidify+Cool (PH01)
How Winners Are Determined
Parents across North America participate in the testing process, at no cost to them. They evaluate the products with their families in real life environments rather than simply conducting a consumer vote. Their feedback and evaluations are carefully tallied and curated, and products that meet their standards earn the coveted PTPA Seal of Approval, which can be leveraged on packaging, advertising, end-cap displays, and more. News of the victory is shared among our community of over 200,000 families. Independent research by Research Now has confirmed that the PTPA Seal of Approval ranks among the top three most recognized seals in North America.
About PTPA Media Inc.
PTPA Media certifies innovative products that families can trust. By connecting manufacturers with consumers, PTPA Media helps companies serve their markets better, and helps families identify products that have been tested and recommended by their peers. For more information visit http://www.ptpa.com.