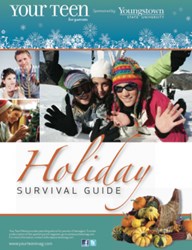 If you have the expectation that you're all going to do everything together, that's not going to go well.
Beachwood, OH (PRWEB) November 27, 2013
There's no doubt that holidays with teens can be trying. But with a little thought and preparation, you can solve the holiday hassle before it starts, and take steps to ease the strain for the whole family.
Your Teen Magazine (http://www.yourteenmag.com) offers a Holiday Survival Guide for parents of teens full of valuable tips on how to deal with so much family time and holiday stress, as well as suggestions for organizing a family volunteer project to give back, a list of tips on how to interact with a wayward relative in "Dealing with Uncle Buck," and a delicious recipe for pumpkin pie with ginger snaps cookie crust.
Get the Guide Here:
http://yourteenmag.com/2013/11/2014-holiday-survival-guide
As much as families look forward to the holidays, they can also be stressful, according to Your Teen expert — Cleveland-based Scott Schlacter, LCSW. He offers advice on such topics what to do about drinking for yourself and our teens, social media holiday envy, stress busters for the whole family, and how to alleviate jealousy between siblings. The following is a sampling from his Q and A featured in the Your Teen Holiday Survival Guide:
How do we manage so much family time?
Think about it this way. During the rest of the year, you aren't together all the time. So it's okay to not be together all the time over the holidays. Especially with high school and college students, I would recommend you set up one activity a day – dinner or a board game or a movie, for example – but otherwise people can do as they please. The kids who are coming home from college, they want to see their friends. They do not want to hang out with the family for the most part. But there definitely has to be downtime for everyone because if you have the expectation that you're all going to do everything together, that's not going to go well.
Any advice for stress busters?
Try not to overeat. Try not to let your kids stay up way too late, though that's harder with college students. But being overtired really throws off people's rhythms. Exercise. It blows out the stress of the day and makes you feel better. You can get people to go on a hike, go bowling, or go ice skating. But again, stick to one thing a day. There are going to be some people in the family who want to hang out all day and there will be others who don't and if you pressure them, they're just going to be annoyed and ruin a good time.
On social media, it can feel like everyone is having a "perfect" holiday?
Some people are very honest on social media and some, as we know, are not. You have to take it all with a grain of salt. You have to know that every family has their own issues. Sometimes they come out whenever and sometimes they come out during the holidays. To believe that all your friends are having the best time ever is totally false. Just remind yourself that when you get together with your friends after the holidays, everyone has a story.
How should we handle alcohol this time of year?
Drinking to excess is never a good idea. Things can get out of control quickly, with someone getting way too angry or saying things inappropriately or just looking drunk to your kids. None of the above is good modeling. You're an adult. You're allowed to have a drink and that's fine. But the drink is really a small adjunct of the party. It's not a focus.
How about allowing our teenagers to have a drink?
I would err on the side of no here. That's not a great message. Also, are there other adolescents at the party? If your teenager is allowed to have a drink, they will want one too. Is that okay with their parents? You are now going to have to be on top of your teenager's drinking, in addition to everything else. You're also opening a door, so what happens when it's New Year's or dad's turning 50? Will your teenager be allowed a drink? I think you run into trouble that way.
What about when my teenager feels jealous that his sister got better presents?
Obviously, we try our best to be fair, but our teenagers don't always see it that way. What you can then start to ask them is "What does it mean to you that you think your sister got a more 'better' gift?" Ask them for the translation. The hope is you can have a conversation. For instance, it can be an opportunity to talk to your teen about his feelings around the favoritism issue that can crop up in any family.
For many families, the holidays are a time to give back. Your Teen Holiday Survival Guide also features award-winning author Annie Fox, M. Ed., providing tips on how parents can help teenagers learn to pay it forward this season. According to Fox, "Start with a family meeting. The goal: To figure out, as a family, what will be your "holiday spirit" projects. Brainstorm ways the family can work together to help others. It might be something very local: committing to doing weekly errands for an elderly neighbor or collecting food for a food bank and/ or delivering it to needy families. Or your helping hand might extend to a global reach through any of the outstanding organizations helping people throughout the world. Find out who's doing what at CharityNavigator.org and support their efforts. Giving makes you (and any teen you want to inspire) part of the solution."
Brimming with information on making your holiday fun, stress free and fulfilling for your teen and the whole family, the Your Teen Holiday Survival Guide is a must read as we approach the long holiday season.
Your Teen Quarterly Magazine and yourteenmag.com is a leading source for parents seeking high-quality information and advice about raising teenagers. For subscriptions, go to http://yourteenmag.com/subscribe/.
About Your Teen Magazine:
Your Teen addresses the challenges inherent in raising teens and helps parents of teens to continue the journey toward the goal of successful parent. In the magazine format, parents can post questions, offer personal tactics and hear the different perspectives of professionals, other parents and teenagers on relevant topics. Your Teen hopes to ease the worry.