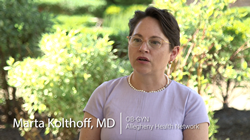 "It's important to have a standard of care, to provide evidence-based care in order to help these families through the painful loss of their babies."Marta C. Kolthoff, MD, MA, FACMG, FACOG, Director of the Olivia's Angels Perinatal Palliative Care Program at Allegheny Health Network (AHN)
WEXFORD, Pa. (PRWEB) June 22, 2022
Their names are Olivia and Eve, Caleb, Cameron and Asher, and many others. They are babies whose time on this earth, in their parents' arms, was far too short.
But they are forever loved, and never forgotten. And so on a sunny afternoon in the courtyard of Allegheny Health Network (AHN) Wexford Hospital, parents who lost babies through miscarriage, stillbirth or shortly after birth joined with siblings, physicians and other clinical caregivers for "A Time to Remember – AHN Perinatal Loss Spring Memorial." They heard poems and readings and enjoyed fellowship with others who had suffered similar losses. Guests also enjoyed "bundtlet" cakes donated by Nothing Bundt Cakes of Cranberry Township and corsages donated by McCandless Florist.
Holding the event at AHN Wexford was significant, said Marta C. Kolthoff, MD, MA, FACMG, FACOG, Director of the Olivia's Angels Perinatal Palliative Care Program at AHN, as the Olivia's Angels program has now expanded from AHN West Penn Hospital to Wexford Hospital and to all other AHN hospitals with labor and delivery centers: AHN Forbes, AHN Jefferson and AHN Saint Vincent.
That means having an on-site team that specializes in caring for families who either know ahead of time that their babies' lives will be brief, or for whom their babies' passing comes unexpectedly. They help families bond with their babies, help provide photos or other mementos, and gather support of other family members or spiritual leaders.
"It's important to have a standard of care, to provide evidence-based care in order to help these families through the painful loss of their babies," Dr. Kolthoff said of Olivia's Angels, which serves about 100 families a year. "We are so happy to know that this standard of care is now being duplicated at Wexford and throughout all of our AHN hospitals that care for women and infants."
Olivia's Angels is named for Olivia Bevevino, who passed unexpectedly shortly after birth 22 years ago. Her parents, Susan and Dan Bevevino of South Bend Township, Armstrong County, attended the memorial at Wexford, and Mrs. Bevevino smiled as she envisioned the young woman Olivia would be today.
The Bevevinos were determined that Olivia not be forgotten. Among the programs they started in her memory were the Olivia's Angels Perinatal Palliative Care Program and the Olivia's Angels Perinatal Loss Support Group, for parents who experience miscarriage, stillbirth or death of a baby shortly after birth. Information on Olivia's Angels is available at: https://www.ahn.org/services/womens-health/pregnancy-newborn/perinatal-palliative-care
When they met Dr. Kolthoff in 2018 and learned about the work she has done at AHN creating the Perinatal Palliative Care Program, which provides hospice and grieving care to families who are experiencing the death of a baby before, during or after birth, "We knew immediately this is where we needed to be," Mrs. Bevevino said.
When Olivia died 22 years ago, it was a different era, and though the hospital staff was kind and sympathetic, they had difficulty finding things that the devastated Bevevinos needed: a photographer, so that they could have photos to remember Olivia by, and a priest to baptize her. At home, the couple felt alone, with nobody quite knowing how to talk to them about their loss.
Now, attending the memorial event at Wexford, the Bevevinos are happy to see the progress that has been made, but hope to see more awareness of perinatal loss.
"We want to talk about our children," Dan Bevevino said. "Ask us about them. We are always thinking about Olivia. Olivia is not here with us right now, but she is our daughter and always will be."
AHN is on the forefront of perinatal bereavement services not only with Olivia's Angels program services but also with the creation of a Butterfly Suite at West Penn Hospital. This one-of-a-kind suite includes a private family waiting room adjacent to a private patient room for families who are grieving the death of their baby. The Butterfly Suite represents a joint effort between the Keenan Family and AHN – West Penn Hospital. Becky and Jeff Keenan of Shaler Township experienced the death of the beloved son, Caleb, in 2020 and the Butterfly Suite represents their commitment to both honor Caleb and to help other families who experience such a devastating loss. The Butterfly Suite is expected to open in the Fall of 2022.
###
About the Allegheny Health Network:
Allegheny Health Network (AHN.org) is an integrated healthcare delivery system serving the greater Western Pennsylvania region. The Network is composed of 14 hospitals, ambulatory surgery centers, Health + Wellness Pavilions, an employed physician organization, home and community-based health services, a research institute, and a group purchasing organization. The Network provides patients with access to a complete spectrum of advanced medical services, including nationally recognized programs for primary and emergency care, trauma care, cardiovascular disease, organ transplantation, cancer care, orthopedic surgery, neurology and neurosurgery, women's health, diabetes, autoimmune disease and more. AHN employs approximately 21,000 people, has more than 2,600 physicians on its medical staff and serves as a clinical campus for Drexel University College of Medicine and the Lake Erie College of Osteopathic Medicine.