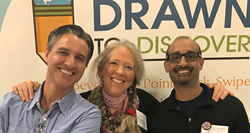 Halperin explains, "(Kids) want to move so fast and get their work done quickly. I encourage them to take take their time so they don't have to revise the work. When they learn that 'slow saves time'… so they won't have to re-do the lesson, they tend to concentrate and learn at a much deeper level."
CHICAGO (PRWEB) September 07, 2018
DRAWN TO DISCOVER was recently featured in Forbes highlighting their unique take on the importance of fine motor skill development in elementary education. Now the team looks to help children ease back into the highly scheduled school year by providing quality screen time that delivers fun, creativity, relaxation, and distraction while subtly promoting cognitive growth and intellectual development.
Back to school means back to routines. It also means creating new routines and establishing good habits, especially for children just starting school. Bedtimes, wake-up times, eating schedules, and homework time are a few things that become more scheduled than during the summer. School children have places to be and responsibilities to carryout. It can all be a little overwhelming for everyone involved. What is a parent to do?
Thankfully, experience and research point to some effective time and effort management techniques that can help our children. Young school children are learning the balance of work and play. This balance looks different for different ages, and it is a very important life skill that we need as adults too. Hard work has value, but working too hard for too long is actually counterproductive. For our brains to work efficiently they need to 1) build their capacity for focused attention gradually, and 2) be given small breaks (along with fuel and sleep). Just like training for a marathon begins with running a mile or two, our young children are beginning their journey gradually.
Slow Saves Time
Drawn To Discover's co-founder, Wendy Anderson Halperin, coined the "slow saves time" principle in classrooms with children years ago. "As I have worked in so many classrooms over the past years, I noticed little ones often want to move so fast and get their work done quickly," Wendy explained. "So I always encourage them to take take their time so they don't have to revise the work. When they learn that 'slow saves time' because they won't have to re-do the lesson, they tend to concentrate and learn at a much deeper level."
One key to building effective study and work habits is to allow time for both focused attention (work) and for recreation (play). Indeed, the word "re-creation," literally means "to create again." Our brains need time for renewal. This is true for adults as well as children. If we push ourselves too hard, we get fatigued. Such fatigue leads to more errors and our productivity actually goes down. But, when we build in time for relaxed play, we can increase our productivity. Going slow, will save time in the long run.
Fresh air, exercise, art, music, meditation are all good ways to step away and "re-create," giving our brain time to process. Many people also love to draw, paint, or doodle. Albert Einstein played the violin as a study break. The great Leonardo da Vinci saw this value too stating, "Every now and then go away, have a little relaxation, for when you come back to your work your judgment will be surer."
DrawnToDiscover.com is such an outlet for children. The visual literacy lessons provide a win-win for parents and children. These fun, interactive lessons can serve as a mental break and offer respite from typical homework and study. Additionally, the lessons teach valuable skills that will not only help them academically, but also give them a tool for a lifelong, joyful outlet. Drawn To Discover has been shown to increase children's creativity and expression – great resources for navigating this new academic journey and laying the foundation for future success in life and career. This hands-on experience really teachers how "slow saves time."
Drawn To Discover is the online curriculum developed by Wendy Anderson Halperin, renowned children's book author and artist, educator, presenter, former advertising creative director, and visual literacy pioneer. For over 15 years, Wendy has successfully taught children handwriting, drawing, literacy, and critical thinking skills through her visual literacy lessons. Over 50,000 students have shared in this rich experience. Now, through DrawnToDiscover.com you can access these STEAM lessons (Science Technology Engineering Art & Math) and share that joy and success in your own home.
The DRAWN TO DISCOVER video programs were developed and are built for home study and enrichment but are also suited for the classroom. Children can learn at their own pace and master each skill, strengthening their weaknesses and enforcing their strengths. Research has shown, by developing fine motor skills, children have a greater ability to learn, comprehend, and develop.
"I am incredibly excited about the potential intellectual impact we can have," says DRAWN TO DISCOVER Co-Founder, Brian Goodman. "The imprint we believe we can make on the creative and cognitive development of children through this curriculum is truly unique and special. I know this because I have seen the results in my own children and in the over 50,000 children Wendy has impacted in the classroom over the last 12 years."
About Drawn To Discover, LLC
DRAWN TO DISCOVER is a progressive and pioneering visual literacy and learning solution for children. We manifest creativity and self confidence through interactive ENRICHMENT video lessons built to develop fine motor skills into cognitive growth. To learn more, visit us here and be sure to check out the feature in Forbes.