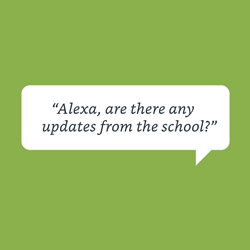 "The ParentSquare skill for Alexa is not only transformational for busy parents, but also has the potential to engage parents who struggle with reading" — Anupama Vaid, ParentSquare Founder and President
SANTA BARBARA, Calif. (PRWEB) September 26, 2019
ParentSquare Inc, provider of unified school-to-home communication, has announced its first Amazon Alexa skill. The skill will allow parents to use voice to access to school announcements, upcoming events, and other important information coming from school via Alexa-enabled devices and the Alexa App. The skill leverages the new Alexa Education Skill API, and ParentSquare is among the first parent engagement platforms to have a Voice User Interface (VUI) integration.
Once users have signed into ParentSquare through their Alexa app and granted Alexa permission to access their ParentSquare account, parents can simply ask, "Alexa, are there any updates from school?" Parents can also get updates specific to one child. For example, they can ask "Alexa, does Owen have any school communications?"
"The ParentSquare skill for Alexa is not only transformational for busy parents, but also has the potential to engage parents who struggle with reading," said Anupama Vaid, ParentSquare Founder and President. "We are beyond excited to work with Amazon Alexa to offer parents more access to their school communications, ushering in a new era of school-home communication."
Attendees of the CETPA Conference in mid-November can preview the new Alexa integration at ParentSquare's 2.0 Launch party co-hosted with Amazon Web Services. Details will be posted on ParentSquare social media soon.
ParentSquare users will still be able to access ParentSquare via web portal or app, and will continue to receive emails, text messages, and/or app notifications, depending on their preferences. Note that the school or district must already be using ParentSquare in order for families to access the ParentSquare Skill for Alexa.
About ParentSquare
ParentSquare unifies all tools from the district office and classroom to the family, providing oversight throughout and powerful reporting metrics. With extensive student information system integrations, translation to more than 100 languages and access via app, email, text, voice, and web portal, ParentSquare enables schools to engage all families, ensuring equitable communication. Founded in 2011, ParentSquare is relied upon by more than a million educators and families in over 40 states. For more information, visit http://www.parentsquare.com and follow @ParentSquare