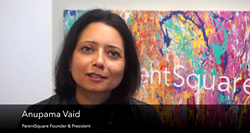 "The pandemic has highlighted just how critical school-to-home communications is, and we're thrilled to support ParentSquare as it helps foster stronger connections between families and educators," said investor Tom Kenny.
SANTA BARBARA, Calif. (PRWEB) December 09, 2020
ParentSquare Inc., provider of the premier unified school-to-home engagement platform for K-12, today announced that it has raised $7 million in new funding. The latest funding is an additional seed round and includes a number of repeat investors. The funds will be used by ParentSquare to invest in its technology platform and products, and to further scale its operations to serve K-12 schools and districts nationwide.
"It has been very exciting to see the enthusiastic response from K-12 schools and districts to our effective, unified communications platform," said Sohit Wadhwa, CEO of ParentSquare. "With this investment, we are focused on scaling our operations and we're investing in our engineering team and infrastructure to ensure innovation remains a strength."
ParentSquare provides a comprehensive yet simple-to-use communications solution for both parents and school staff by approaching school-to-home communication needs holistically, instead of piece by piece. Typically, families and school staff are expected to navigate multiple platforms and apps in order to communicate within their school and district, whether it's for district announcements, attendance, forms, surveys, sign-ups or daily classroom communications. ParentSquare unifies those communications in a single platform and product.
ParentSquare was started by husband and wife team Anupama Vaid and Sohit Wadhwa in Santa Barbara, California in 2011. As a computer engineer who helped develop GoToMyPC before taking time off for her young family, Vaid realized there was a need for more efficient communication with teachers at her children's school. She and Wadhwa started working on a solution, partnering with the school principal and then with neighboring schools.
ParentSquare officially launched its namesake product in 2014, with consistent revenue growth year-on-year of about 100%. The company now serves over 4 million users across 44 states, including over 40 percent of districts in California. ParentSquare has raised a total of more than $12 million over five funding rounds since its debut.
About ParentSquare
ParentSquare is relied upon by millions educators and families in over 44 states for unified, effective school communications. ParentSquare provides parent engagement tools that work from the district office to the individual classroom, supported by powerful metrics and reporting. ParentSquare's technology platform features extensive integrations with student information and other critical administrative systems, translation to more than 100 languages, and app, email, text, voice and web portal access for equitable communication. ParentSquare (http://www.parentsquare.com), founded in 2011, is based in Santa Barbara, CA.