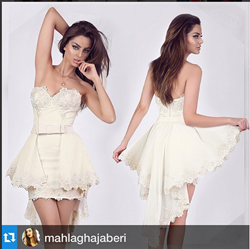 (PRWEB) September 30, 2015
Paris Dress, the web's leading fashion site with the largest collection of designer dresses and accessories, has announced that it will be hosting its annual Fall Flash Sale. Shoppers now get the chance to enjoy 10% off on all designer dresses simply by keying in the code 'paris10' during checkout.
The gentle change of summer to autumn heralds a time of much anticipation for fashion gurus around the world. The change of the seasons marks the start of flash sales and Paris Dress (http://www.parisdress.com) has taken it upon itself to partake in this event. Shoppers now have the chance to enjoy discounts on some of the most fashion-forward designer dresses in the world.
With topnotch designers like Kristin Cavallari, Tony Bowls, Tarik Ediz, Rachel Allan and Mac Duggal headlining Paris Dress' inventory, shoppers can now treat themselves to some of these haute couture offerings at affordable rates. Whether shoppers have a formal event to attend or simply want to bolster their closets, there is no denying that they will be spoilt for choice at Paris Dress' Fall Flash Sale.
This leading fashion company also has several other offerings to go along with it's highly anticipated flash sale:
Complimentary International and Domestic Delivery
Depending on what shoppers purchase, they may be eligible for free international shipping. Shoppers can rest assured that no matter where in the world they are, they will be treated to free delivery on selected items. Unlike other online stores that charge an arm and a leg for shipping, Paris Dress has made it a point to offer its customers this added perk of shopping with them.
Flexible Return Policy
Paris Dress wants every customer to be completely satisfied with their purchases and readily offers returns or exchanges for store credit. No matter the time of day, one of the site's customer service representatives will be ready to pave the way for a smooth return or exchange. Keep in mind that the return policy does not apply to clearance items or anything from the bridal or bridesmaid collections.
Comprehensive Privacy Policy
As of March 2015, Paris Dress has put forth a comprehensive privacy policy. The policy details how the company collects, uses and stores their customers' personal information. It also offers customers options regarding the site's use of their personal information and the steps they may take to access this data. Paris Dress does not sell, rent, trade or share their customers' personal data with third parties except as described in the privacy policy. Shoppers are encouraged to check out the site's comprehensive policy for peace of mind.
Topnotch Customer Service
Whether shoppers need information on pricing and products, or want to find out more about their orders, the site's professional team of customer service agents are always on hand to help out. All shoppers have to do is click on the tab that says, "Contact Us Today For Any Questions." They can then email in a comment or call the number provided.
From designer prom dresses, homecoming dresses to high end cocktail dresses, shoppers will find everything they need at Paris Dress. Do not hesitate to use the code 'paris10' at checkout to receive 10% off all designer dresses. To find out more about the Fall Flash Sale, head to http://www.parisdress.com or call (855) 804-0515 today.