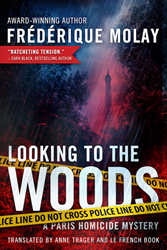 Molay leaves no cobblestone unturned when describing the beautiful Paris backdrop...dead bodies, puzzling clues, conflicting character motivations...
New York, New York (PRWEB) August 29, 2016
Le French Book, a mystery and thriller publisher dedicated to handpicking and translating top crime fiction from France, announces that AmazonCrossing will publish the Paris-based mystery, LOOKING TO THE WOODS. This title is part of the Paris Homicide series by award-winning author Frédérique Molay—whose writing Cara Black says "blends suspense, authentic police procedure and ratcheting tension."
"We are very excited about working with AmazonCrossing on this international release. Our goal is to get France's creative talent in the hands of a larger audience and this is one more opportunity to do so," says Anne Trager, translator and founder of Le French Book.
A gamemaster is playing with lives, but Paris's top cop is playing to win.
When a ten-year-old girl's mutilated body is found in a public park in Paris, Paris chief of police Nico Sirsky must tear himself away from a rare moment of family time to lead the investigation. But his elite team of homicide detectives isn't on the case for even twenty-four hours before a second child is found murdered and left to rot inside a middle school classroom. With the City of Light on edge awaiting another gruesome discovery, the clock starts ticking for Sirsky to catch the elusive killer who calls himself the Gamemaster.
An international bestselling series
Part superhero, part master detective, Nico Sirsky—the intrepid head of the City of Light's criminal investigation division—leads a team of elite crime fighters as they investigate gruesome murders, crack cold cases, and probe the darkest corners of one of the world's most beguiling cities. Frédérique Molay's Paris Homicide series is a unique procedural with a powerful sense of place and characters drawn from the rich tradition of European history and culture.

THE 7th WOMAN won France's prestigious Prix du Quai des Orfèvres award and went on to be the prize's top bestseller ever. Terror stalks young, successful women in the streets of Paris. Chief of Police Nico Sirsky and his team race against the clock to solve the murders as they get closer and closer to his inner circle.
In CROSSING THE LINE, despair blurs the lines between good and evil when a frightened man's last-ditch attempt to announce his murder leads the Paris Homicide team to uncover an intricate machination.
In THE CITY OF BLOOD, a major Parisian modern art event gets unexpected attention on live TV. Sirsky and his team rush to La Villette park and museum complex, the site of the French capital's former slaughterhouses, where the blood is just starting to flow.
Praise for the series
"Cassian likens Nico to Georges Simenon's great detective: 'Inspector Maigret can sleep soundly. He has a worthy successor.' Many readers will agree." —Publishers Weekly
"Molay can give CSI writers a run for their money..." —Marienela
"Procedural fans will appreciate the fresh take." —Booklist
"Slick, highly realistic, and impeccably crafted thrillers." —Foreword Reviews
"Frédérique Molay is the French Michael Connelly." —Jean Miot, Agence France Presse (AFP)
"Inspector Nico Sirsky is every bit as engaging and dogged as Arkady Renko in Gorky Park." —New York Times bestselling author Robert Dugoni
About Le French Book
Le French Book is an independent book publisher focused on bringing France's best mysteries and thrillers and other stories to new readers across the English-speaking world. For more information, please visit: http://www.lefrenchbook.com.
©2016 Le French Book, Inc. All rights reserved. Information is subject to change without notice.