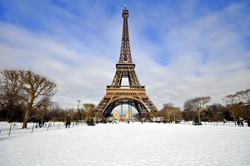 "It is definitely a gift that keeps on giving – writers leave the retreat with newfound inspiration found in Paris."
DENVER (PRWEB) December 07, 2018
For writers who already have plenty of beautifully bound blank notebooks and stylish pens, the best gift this holiday season is registration for the Left Bank Writers Retreat. Celebrating its 10th year this June, the small-group writing workshop and literary travel experience is known for inspiring its writer attendees with writing tips and advice from such masters as Ernest Hemingway, F. Scott Fitzgerald, Gertrude Stein and their "Lost Generation" cohorts while visiting the famous authors' haunts.
A maximum of eight writers live the Left Bank lifestyle in Paris for one week, June 8 – 14, 2019, experiencing some of the most artful and inspiring places in the city, eating, drinking, sightseeing and, of course, writing. And a special $200 holiday discount off the Left Bank Writers Retreat's regular $1,999 tuition on registration received by Dec. 31, 2018, simply sweetens the deal.
The annual June-in-Paris itinerary of the Left Bank Writers Retreat includes writing en plein air in such iconic Paris locations as Luxembourg Gardens and the Tuileries, museum trips to Musée d'Orsay and Musée de l'Orangerie, eating and drinking in cafés frequented by Hemingway in the 1920s and a boat cruise to the Eiffel Tower. New this year, writers on the retreat will enjoy a visit to the Impressionist museum on the outskirts of Paris, Musée Marmottan Monet; spend a day writing and picnicking at Versailles; and, inspired by the new film on Vincent Van Gogh, "At Eternity's Gate," visit the little village of Auvers-sur-Oise where he painted.
The Paris travel opportunity is a perfect holiday gift for writers, says Left Bank Writers Retreat Director Darla Worden. "Hemingway has always been inspirational to my writing and it was my curiosity about his writing life that first led me to create the program in Paris 10 years ago. I love weaving writing tips from his work as well as firsthand glimpses of the vastly creative arts community in 1920s Paris into the retreat's morning writing workshops and afternoon literary travels," Worden says.
"I've heard many stories at the retreat from women and men who received the retreat as a gift," Worden adds. "It is definitely a gift that keeps on giving – writers leave the retreat with newfound inspiration found in Paris."
Named for the now-famous writers who lived on Paris's Left Bank during the 1920s such as Ernest Hemingway, Gertrude Stein, Ezra Pound, James Joyce and F. Scott Fitzgerald, the Left Bank Writers Retreat in Paris welcomes writers of all levels and genres, providing memorable experiences, hands-on writing workshop instruction and guided tours of favorite Paris literary haunts of Hemingway and his cohorts.
As a holiday gift-giving incentive, anyone signing up for this summer's retreat by Dec. 31, 2018, can attend for a reduced price of $1,799. This year's Left Bank Writers Retreat will take place June 8-14, 2019, and tuition covers all expenses during the retreat from 9 a.m. to 5 p.m. daily (breakfast, lunch, admission fees and transportation around the city, as well as writing instruction). Writers are responsible for their own airfare and lodging.
About the Left Bank Writers Retreat:
The Left Bank Writers Retreat was founded and is hosted by author and editor Darla Worden, whose lifelong obsession with Ernest Hemingway has led to two currently-in-the-works books tied to his time in Paris and Wyoming. Worden is editor in chief of Mountain Living magazine, has written widely for magazines and authored several books. Now entering its tenth year, the Left Bank Writers Retreat takes place on the historic Île Saint-Louis in the heart of Paris. For additional information, visit http://leftbankwriters.com/.