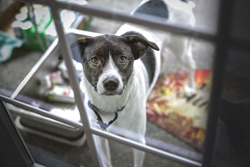 "My company regularly takes care of dogs who are suffering with differing degrees of separation anxiety." Joette White, President of Park Cities Pet Sitter
DALLAS (PRWEB) September 07, 2018
Park Cities Pet Sitter is hosting a seminar called "Understanding Dog Separation Anxiety" on Sunday, November 4th from 1-5pm at the Pinot's Palette at 4560 W. Mockingbird Lane. \
The seminar will be taught by renowned dog trainer and behavior expert, Scott Sheaffer. Sheaffer holds multiple industry accreditations including CDBC, CBCC-KA and CPDT-KA, and specializes in the assessment and treatment of fear, anxiety, aggression and phobias in dogs.
Separation anxiety is a common behavior issue, affecting approximately 15% of all dogs. Incidences of separation anxiety are often even higher amongst rescue dogs. Symptoms of dog separation anxiety can include: urinating or defecating when left alone or when separated from their owners, excessive barking or howling, chewing and destruction of household objects, escape attempts, pacing and panting, amongst others.
Having a dog with separation anxiety can be very stressful for owners, as many feel like they are hostages in their own homes because they are afraid to leave their dog alone. Many commonly used techniques to curb separation anxiety simply do not work and can actually make things worse.
In this 4-hour classroom seminar, Sheaffer will cover the following topics to help owners manage and address dog separation anxiety:

Defining the different types of separation anxiety and detailing how they are determined
Realistic prognosis expectations and timeframes
Ongoing management
Treatment options and techniques
How medication can play a role in treatment
Park Cities Pet Sitter's President, Joette White, knows first-hand how helpless many dog owners feel if their dog is suffering from separation anxiety. "My company regularly takes care of dogs who are suffering with differing degrees of separation anxiety," said White. "It is very stressful for such an owner to go out of town, knowing their dog is feeling so anxious. That is why we are so happy to host this seminar with Scott Sheaffer, because we know he understands this problem better than anyone, and can lay out clear expectations and techniques to help these dogs and owners."
The "Understanding Dog Separation Anxiety" seminar is ideal for dog owners, trainers, rescue organizations and pet service professionals. Cost to attend is $50 when registering in advance, and $60 at the door on the day of the event. To learn more about Park Cities Pet Sitter's seminar, or to enroll, visit http://www.pcpsi.com/events.
About Park Cities Pet Sitter: PCPSI has served the Dallas, Richardson and Plano areas 7 days a week, 365 days a year since 1992, and was recently named the 2017 Business of the Year by the National Association of Professional Pet Sitters. Dog walking, pet sitting, pet taxis, overnight sitting, pet supply shopping, and dog training are some of the many services PCPSI offers. Park Cities Pet Sitter is bonded and insured, and all sitters are employees--not independent contractors. A manager is on-call 24 hours a day to handle any emergencies. Go to http://www.pcpsi.com to learn more.