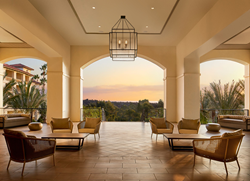 CARLSBAD, Calif. (PRWEB) October 28, 2020
Park Hyatt Aviara Resort, Golf Club & Spa and its ownership entity Xenia Hotels & Resorts, proudly announces its grand reopening. The Forbes Five-Star and AAA Five Diamond resort is situated on over 200 lush acres in Carlsbad, California—San Diego's iconic coastal community—surrounded by natural beauty and tranquility atop a high ridge on the shore of Batiquitos Lagoon, offering guests a place to reenergize, connect and explore.
The renovation ushers in the next era for this beloved property with an elevated guestroom and suite product, new restaurant and bar concepts, and 83,000 square feet of upgraded meeting and event spaces. Guests will find a dramatic redesign to the resort's striking lobby entrance, spacious public areas, and new pool offerings, which now features seven distinct aquatic experiences.
"Park Hyatt Aviara stands amongst a collection of luxury Southern California resort destinations with unique amenities, and we are honored to continue to reinvent this resort," said Geoff Gray, General Manager of Park Hyatt Aviara. "We are proud to usher in this iconic and exceptional resort's next chapter and a new level of understated luxury in Southern California."
Design and Guestrooms
In collaboration with distinguished California-based design firm, Wimberly Allison Tong & Goo, and its design studio, Wimberly Interiors, the new resort experience celebrates the Southern California lifestyle and the artistic expression of the Park Hyatt brand. With a focus on residential-inspired luxury experiences and renowned art and design, the property also draws inspiration from its stunning natural landscape, including the nearby Batiquitos Lagoon with verdant rolling hills and valleys, lush trails, abundant wildlife and vast ocean views. The entire design reflects an elegant, coastal retreat where guests can immerse themselves in the cultural heritage of this legendary location.
Already spacious in nature—ranging from 540 to 2,140 square feet—the 327 guestrooms, including 43 suites, have been redesigned as residential sanctuaries inspired by the beauty of the Great Blue Heron, a majestic local bird celebrated as progressive, self-reliant, tranquil and graceful. Every room at the resort provides one or two king-sized beds and embraces a refined, yet California-coastal style with contemporary décor that stylishly incorporates the subtle color palette of the Great Blue Heron. Modern touches include hardwood flooring in entryways, chic bathroom upgrades and new furnishings, topped off with the resort's original breathtaking views. All rooms are outfitted with luxurious pillow-top beds, wired and wireless internet, 55" flatscreen TVs with over 150 channels, digital newspapers and magazines offering 7,000 + titles, in-room Bose stereo and more.
Culinary
Several new immersive dining experiences accompany the resort's transformation, including a collaboration with Richard Blais, an acclaimed chef, restaurateur, author and television personality, widely recognized from his many appearances on Bravo's Top Chef as well as Food Network. Expected to launch early 2021, the restaurant will anchor the world-renowned Aviara Golf Club. The new dining venue will represent the culinary embodiment of Park Hyatt Aviara's commitment to celebrating classic California style and fresh, Left Coast cuisine. The design introduces vibrant, playful colors and coastal chic interiors, while the menu centers on vintage steaks and fresh seafood with modern twists on timeless culinary concepts.
Ponto Lago, set to debut later this fall, will immerse guests from across the globe while serving inventive Baja California-inspired cuisine with a local influence, alongside a bespoke bar program and the backdrop of incredible ocean views. Offering breakfast and dinner, as well as weekend brunch, Ponto Lago will bring the kitchen into the dining room, inviting diners to become a part of the culinary experience. A popup restaurant concept adjacent to an interactive TopGolf Swing Suite will welcome rotating seasonal themes and menus for groups and leisure travelers alike. Chef Richard Blais will make guest appearances here as well.
The reimagined living room, aptly named Pacific Point, delivers a Pacific Rim-inspired menu. Creative fare takes center stage with dishes such as octopus poke, Wagyu short rib, and roasted and mochi carrots. Expansive windows provide guests with uninterrupted views of Southern California's sunset and firepits offer a great location for gathering.
Event and Meetings Spaces
The resort's function and social spaces are designed to engage attendees, encourage innovation and inspire San Diego's biggest soirees and fundraisers. Offering a total of 173,000 square feet of outdoor meeting space among 200 pristine acres, Park Hyatt Aviara provides unmatched access to expansive areas with fresh coastal air and lavish scenery.
The most spectacular venue is the resort's four-acre multi-functional event lawn, offering a stunning alfresco venue accommodating up to 1,000 guests for special events, galas and weddings. From the lobby's outdoor veranda, a double grand staircase leads to this expansive new event lawn, featuring a colorful, eclectic display of native plants, including date palms, birds of paradise and an assortment of aloes and agaves. Some modern elements include two new fountains and a steel sculpture by local artist Jennifer Gilbert Asher from Eaton Fine Art, which symbolizes the fluid movement of local birds through an abstract lens. The Rose Garden, which was redesigned in its current location as a reference to its legacy, invites guests to 'stop and smell the roses' with nine rose varietals.
Additional outdoor meetings and event spaces at Park Hyatt Aviara include the Jacaranda Courtyard located at Aviara Golf Club, which provides views of rolling hills and native wildflowers, as well as the vast 130,000 square foot Heron Lawn near the recreational center, which delivers entertaining activities like volleyball, a croquet field, horseshoes, a badminton court and bocce ball.
The property also features 40,000 square feet of indoor event space spread amongst 23 meeting rooms on two levels including the 11,730 square-foot Grand Ballroom.
Amenities and Services
Catering to guests of all ages—the young and young at heart—a completely redesigned pool deck showcases two distinct fun-in-the-sun experiences. A serene adult pool offers private luxury cabanas, while the family pool is complete with a waterslide tower and tide pool splashpad. Incorporating two winding slides, the tower also pays homage to Carlsbad's local wildlife with patterns of birds, reeds and fish commonly found in the nearby Batiquitos Lagoon. Waters' Edge, the nearby pool bar, is an all-day casual stop where guests can unwind outside with creative bites and masterful cocktails (and mocktails), taking in the fresh ocean breeze and beautiful surrounding views.
The resort has added two Topgolf Swing Suites, an immersive social experience offering guests of all ages access to a premier lounge while enjoying casual fare, refreshing beverages and lively music. With a floor-to-ceiling screen and a selection of virtual games, the Topgolf Swing Suite delivers a one-of-a-kind simulation that is fun for golf enthusiasts and non-golfers alike. Guests can also enjoy the lounge's billiards table or catch a game on one of the many televisions.
Park Hyatt Aviara is also home to the luxurious Aviara Spa with 20 treatment rooms and Aviara Golf Club, the only coastal California course designed by Arnold Palmer and home to the LPGA Kia Classic. Surrounded by its lush 200 acres, the resort offers a year-round escape while discovering enriching experiences that will leave guests inspired to return.
Additional services and facilities include the Park Hyatt Aviara tennis court and recreational facility, 24-hour in room dining, concierge, babysitting services, laundry/dry cleaning, valet parking, 24-hour security, overnight shoeshine and daily fitness classes.
Guided by its purpose of care, Hyatt's multi-layered Global Care & Cleanliness Commitment further enhances its operational guidance and resources around colleague and guest safety and peace of mind. More information on Hyatt's commitment can be found here: hyatt.com/care-and-cleanliness.
For more information about Park Hyatt Aviara or to book a reservation, please visit https://www.hyatt.com/en-US/hotel/california/park-hyatt-aviara-resort/sanpa.
Connect with Park Hyatt Aviara:
Instagram: http://www.instagram.com/parkhyattaviara
Twitter: http://www.twitter.com/ParkHyattAviara
Facebook: http://www.facebook.com/ParkHyattAviara
For more information about Park Hyatt Aviara or to book a reservation, please visit the hotel's website or call 760-448-1234.
About Park Hyatt Aviara Resort, Golf Club & Spa:
Park Hyatt Aviara is an iconic Southern California resort, situated along the Pacific on more than 200 lush acres adjacent to the Batiquitos Lagoon, a natural wetland preserve. The Forbes Five-Star and AAA Five Diamond resort offers a world-class wellbeing experience, several distinct dining venues including a restaurant set to open in early 2021 in partnership with acclaimed Chef Richard Blais, adult and family pool experiences, two Topgolf Swing Suites, state-of-the-art tennis facilities, and Aviara Golf Club, California's only coastal designed Arnold Palmer signature golf course, home of the LPGA Kia Classic professional golf tournament. For more information, please visit: https://www.hyatt.com/en-US/hotel/california/park-hyatt-aviara-resort/sanpa. Connect with Park Hyatt Aviara on social media via Instagram, Twitter and/or Facebook.
About Park Hyatt:
Park Hyatt hotels provide discerning, global travelers with a refined home-away-from-home. Guests of Park Hyatt hotels receive quietly confident and personalized service in an enriching environment. Located in several of the world's premier destinations, each Park Hyatt hotel is custom designed to combine sophistication with understated luxury. Park Hyatt hotels feature well-appointed guestrooms, world-renowned artwork and design, rare and immersive culinary experiences, and signature restaurants featuring award-winning chefs. There are currently 41 Park Hyatt hotels in the following locations: Abu Dhabi, Bangkok, Beaver Creek, Beijing, Buenos Aires, Busan, Canberra, Changbaishan, Carlsbad, Chennai, Chicago, Dubai, Guangzhou, Hamburg, Hangzhou, Hyderabad, Istanbul, Jeddah, Maldives, Mallorca, Melbourne, Mendoza, Milan, Moscow, New York, Ningbo, Paris, Saigon, Sanya, Seoul, Shanghai, Shenzhen, Siem Reap, St. Kitts, Sydney, Tokyo, Toronto (under renovation), Vienna, Washington, D.C., Zanzibar, and Zurich. For more information, please visit parkhyatt.com. Follow @ParkHyatt on Facebook, Twitter and Instagram, and tag photos with #LuxuryIsPersonal.
About Xenia Hotels & Resorts, Inc.:
Xenia Hotels & Resorts, Inc. is a self-advised and self-administered REIT that invests primarily in uniquely positioned luxury and upper upscale hotels and resorts, with a focus on the top 25 U.S. lodging markets as well as key leisure destinations in the United States. The Company owns 38 hotels comprising 11,024 rooms across 16 states. Xenia's hotels are primarily in the luxury and upper upscale segments, and operated and/or licensed by industry leaders such as Marriott, Hyatt, Kimpton, Fairmont, Loews, and Hilton, as well as leading independent management companies including The Kessler Collection and Sage Hospitality. For more information on Xenia's business, refer to the Company website at http://www.xeniareit.com.
Forward-Looking Statements
Forward-Looking Statements in this press release, which are not historical facts, are forward-looking statements within the meaning of the Private Securities Litigation Reform Act of 1995. Our actual results, performance or achievements may differ materially from those expressed or implied by these forward-looking statements. In some cases, you can identify forward-looking statements by the use of words such as "may," "could," "expect," "intend," "plan," "seek," "anticipate," "believe," "estimate," "predict," "potential," "continue," "likely," "will," "would" and variations of these terms and similar expressions, or the negative of these terms or similar expressions. Such forward-looking statements are necessarily based upon estimates and assumptions that, while considered reasonable by us and our management, are inherently uncertain. Factors that may cause actual results to differ materially from current expectations include, but are not limited to, the short- and longer-term effects of the COVID-19 pandemic, including on the demand for travel, transient and group business, and levels of consumer confidence; actions that governments, businesses, and individuals take in response to the COVID-19 pandemic or any future resurgence, including limiting or banning travel; the impact of the COVID-19 pandemic, and actions taken in response to the COVID-19 pandemic or any future resurgence, on global and regional economies, travel, and economic activity, including the duration and magnitude of its impact on unemployment rates and consumer discretionary spending; the ability of third-party owners, franchisees or hospitality venture partners to successfully navigate the impacts of the COVID-19 pandemic; the pace of recovery following the COVID-19 pandemic or any future resurgence; general economic uncertainty in key global markets and a worsening of global economic conditions or low levels of economic growth; the rate and the pace of economic recovery following economic downturns; levels of spending in business and leisure segments as well as consumer confidence; declines in occupancy and average daily rate; limited visibility with respect to future bookings; loss of key personnel; domestic and international political and geo-political conditions, including political or civil unrest or changes in trade policy; hostilities, or fear of hostilities, including future terrorist attacks, that affect travel; travel-related accidents; natural or man-made disasters such as earthquakes, tsunamis, tornadoes, hurricanes, floods, wildfires, oil spills, nuclear incidents, and global outbreaks of pandemics or contagious diseases or fear of such outbreaks, such as the COVID-19 pandemic; our ability to successfully achieve certain levels of operating profits at hotels that have performance tests or guarantees in favor of our third-party owners; the impact of hotel renovations and redevelopments; risks associated with our capital allocation plans and common stock repurchase program and quarterly dividend, including a reduction in or elimination of repurchase activity or dividend payments; the seasonal and cyclical nature of the real estate and hospitality businesses; changes in distribution arrangements, such as through internet travel intermediaries; changes in the tastes and preferences of our customers; relationships with colleagues and labor unions and changes in labor laws; the financial condition of, and our relationships with, third-party property owners, franchisees, and hospitality venture partners; the possible inability of third-party owners, franchisees, or development partners to access capital necessary to fund current operations or implement our plans for growth; risks associated with potential acquisitions and dispositions and the introduction of new brand concepts; the timing of acquisitions and dispositions, and our ability to successfully integrate completed acquisitions with existing operations; failure to successfully complete proposed transactions (including the failure to satisfy closing conditions or obtain required approvals); our ability to successfully execute on our strategy to expand our management and franchising business while at the same time reducing our real estate asset base within targeted timeframes and at expected values; declines in the value of our real estate assets; unforeseen terminations of our management or franchise agreements; changes in federal, state, local, or foreign tax law; increases in interest rates and operating costs; foreign exchange rate fluctuations or currency restructurings; lack of acceptance of new brands or innovation; general volatility of the capital markets and our ability to access such markets; changes in the competitive environment in our industry, including as a result of industry consolidation, and the markets where we operate; our ability to successfully grow the World of Hyatt loyalty program; cyber incidents and information technology failures; outcomes of legal or administrative proceedings; violations of regulations or laws related to our franchising business; and other risks discussed in the Company's filings with the U.S. Securities and Exchange Commission ("SEC"), including our annual report on Form 10-K and our Quarterly Report on Form 10-Q filed on May 7, 2020, which filings are available from the SEC. These factors are not necessarily all of the important factors that could cause our actual results, performance or achievements to differ materially from those expressed in or implied by any of our forward-looking statements. We caution you not to place undue reliance on any forward-looking statements, which are made only as of the date of this press release. We undertake no obligation to update publicly any of these forward-looking statements to reflect actual results, new information or future events, changes in assumptions or changes in other factors affecting forward-looking statements, except to the extent required by applicable law. If we update one or more forward-looking statements, no inference should be drawn that we will make additional updates with respect to those or other forward-looking statements.