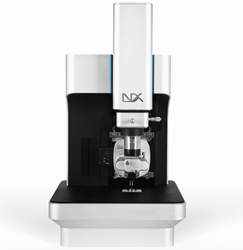 With Park Systems Atomic Force Microscopes, material scientists witness dramatic advances in both scientific research and productivity.
SANTA CLARA, Calif. (PRWEB) March 02, 2020
Park Systems, world leader in Atomic Force Microscopy (AFM) will showcase their world-leading Atomic Force Microscopes at the American Physical Society (APS) March Meeting in Denver from March 2-4, 2020 at the Colorado Convention Center in Booth 623.
Park Systems will feature the Park NX10, the world's most accurate AFM with unparalleled imaging accuracy, scan speeds, and tip life and the Park NX-Hivac which allows failure analysis engineers and researchers to improve the sensitivity and resolution of their measurements through scanning spreading resistance microscopy (SSRM) in high vacuum. This offers greater accuracy and better repeatability than ambient or dry N2 conditions. In addition, the integration of a new operational AFM mode called PinPoint™ with SSRM enables the acquiring of topography, electrical and mechanical property data simultaneously.
"Ever increasing advances in nanoscale science demand accurate and reliable 3D characterization in real-time at the highest nanoscale resolutions. Our technical scientific team helps researchers find a way to examine their samples with unmatched accuracy and productivity," comments Keibock Lee, President of Park Systems. "With Park Systems Atomic Force Microscopes, material scientists witness dramatic advances in both scientific research and productivity."
Characterizing electrical, magnetic, mechanical, and morphological properties of materials are possible with the dedicated operating modes available with Park AFM.
"Our Park NX10 AFM model is unique in employing true non-contact methodology, leading to a much longer probe life and less damage to the sample. With this system, besides getting a 3D image of the sample, you can also obtain other measurements for the locations scanned such as temperature, conductivity, and capacitance," adds Lee.
All Park Systems AFMs feature revolutionary Park SmartScan™ operating software that automates the imaging process, transforming how AFM effectively provides digital nanoscale imaging. This program, the only point-and-click operating software for AFM, produces high quality nanoscale imaging through a single click of a mouse in auto mode to achieve reliable images at five times the normal speed of a traditional AFM, making AFM convenient and intuitive for new and experienced users alike.
Park Systems invites you to visit booth 623 at APS to meet with the Park Scientific team and to discuss your imaging requirements.
About Park Systems
Park Systems is a world-leading manufacturer of atomic force microscopy (AFM) systems with a complete range of products for researchers and industry engineers in the chemistry, materials, physics, life sciences, and semiconductor and data storage industries. Park's AFM provides the highest data accuracy at nanoscale resolution, superior productivity, and the lowest operating cost, thanks to its unique technology and innovative engineering. Cutting-edge AFM automation and nanometrology solutions provided by Park's team of 100% committed professionals improves workplace productivity. Park System Inc., headquartered in Santa Clara, CA has global manufacturing and R&D headquarters in Korea and is supported worldwide with regional headquarters in the US, Korea, Japan, Singapore, Germany, China and Mexico. Park Systems high-performance scientific instruments explore new scientific phenomena that enable scientists around the globe to contribute to impactful science that helps humanity grow and improve life standards.
Please visit http://www.parksystems.com or call 408-986-1110 for more information.