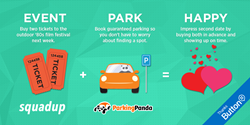 Parking Panda CEO and Co-Founder Nick Miller: "Discovery, reservation, payments, and even access are moving toward this all-in-one, in-app user experience, and this partnership is just the beginning for making that happen for consumers."
Baltimore, MD (PRWEB) September 10, 2015
Parking Panda, the nation's leading app for on-demand parking, has partnered with New York-based Button, the leading contextual commerce marketplace powering connections into the mobile app economy. The integration simplifies a consumer's process of purchasing tickets and event parking, an in-app experience that is now available through Button's matchup of Parking Panda and SquadUP, the next generation in event management and ticketing technology.
"Everything we build is built for our customers, including our partnership strategy. It was a natural next step in our company vision to work with Button and their partners," said Parking Panda Co-Founder and CEO Nick Miller. "Through this smart-connection mobile experience, SquadUP users can buy tickets to next week's film festival and reserve parking in one place. Discovery, reservation, payments, and even access are moving toward this all-in-one, in-app user experience, and this partnership is just the beginning for making that happen for consumers."
With just a few lines of code, Button was able to create a seamless customer experience when booking tickets, and parking for an event. Button's proprietary plug and play platform provides the connective tissue between apps, opening up new channels of revenue and driving higher engagement with complementary contextual commerce experiences.
"Button's contextual commerce marketplace opens up partnership and monetization opportunities that enhance app experiences," said Michael Jaconi, Co-Founder and CEO of Button. "We focus on building app connections that clearly drive value for consumers, and by providing one tap access to parking, this great event ticketing service has unlocked a compelling new feature users love that also drives revenue."
Consumers will be able to find, reserve, and pay for great event parking in hundreds of Parking Panda locations in more than 40 U.S. cities—all within SquadUP. Either when you RSVP to an event, or from the event page itself, you will be able to find and reserve a parking space with Parking Panda.
"SquadUP's Parking Panda integration is another example of our commitment to giving users the best event experience possible," said SquadUP CEO Willie Litvack. "Moving forward, we'll continue to find ways for event attendees to save time, save money, and to get the most out of our mobile-first platform for ticketing and audience engagement. Keep an eye out for more announcements like these in the future."
About Parking Panda
Parking Panda is the nation's leading on-demand parking app for drivers booking daily, monthly, and event parking in more than 40 cities. Its platform allows customers to search and compare thousands of parking options and prices, resulting in deals and exclusive discounts that help save users up to 70 percent on parking. Drivers can easily reserve guaranteed parking spaces in advance at parking lots, garages, and valets in their city, or they can find and book parking on-the-go with the company's award-winning mobile app for iOS and Android. Parking Panda partners with parking operators, event venues, ticketing companies, events, and professional sports teams nationwide to seamlessly integrate the availability of third-party parking facilities for venues, games, and events.
About Button
Button is the leading contextual commerce marketplace,drive revenue through connecting to commerce in contextually relevant, best-in-class experiences. The company was founded in 2014 and is based in New York City. Button has raised more than $14 million in seed and Series A funding from Redpoint Ventures, Greycroft Partners, DCM Ventures, Accomplice, Vayner/RSE and others.
About SquadUP
SquadUP provides hosts and event-goers with an immersive social event experience through their web and mobile devices. Hosts create a central, highly customizable event page and may send invitations, track RSVPs, sell tickets and collect donations. SquadUP transforms the event experience with an end-to-end, mobile first solution for event planning, messaging, image sharing and ticketing. No existing event platform provides a solution that spans planning, ticketing, messaging and photo and video sharing. Only SquadUP provides organizers with tools to continually engage event attendees before, during, and after the event.