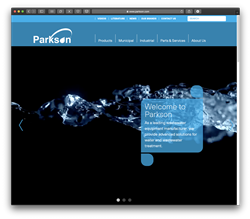 "Our new website is indicative of our plans to continue investing in the future."
FORT LAUDERDALE, Fla. (PRWEB) January 08, 2020
Parkson Corporation is pleased to announce the relaunch of its newly designed website in conjunction with its 60-year anniversary celebration. The new website was created as part of a larger initiative to continuously advance and invest in the technologies offered and customer experience provided. This builds off more recent initiatives such as the launch of new in-channel screening products and creation of the Parkson University educational video series. The user experience is very important, so the website is designed to be mobile-friendly and easier for the customer to quickly find any needed information.
New to the website is a section on "Our Brands," which includes information on Parkson owned technologies and companies. Included are Hycor® screening products, FilterONE USA™ aftermarket parts and services, and the most recently acquired Meurer Research, Inc., based out of Golden, CO. Additionally, an enhanced "Parts & Services" section includes information on FilterONE, Parkson's Water Research Facility (which offers lab and pilot testing), and other aftermarket parts and services.
Visitors will also find it easy to read through product pages with a newly designed "Features & Benefits" section specific to each product. One other change includes a literature page and video page that can easily be filtered through by type of literature, video or product.
"Our new website is indicative of our plans to continue investing in the future," said Brian Frewerd, Director of Marketing and Portfolio Management. "As the year progresses, Parkson will be introducing step-change improvements to existing technologies while simultaneously launching new products and services in line with our mission of providing our customers with unparalleled value. Needless to say, our 60th year is going to be an exciting year!"
Visit http://www.parkson.com to explore the new website. For any inquiries or additional information, contact Lydia Ebert at marketingfl@parkson.com.
About Parkson Corporation:
Parkson Corporation, with offices in Fort Lauderdale, FL; Chicago, IL; Kansas City, MO; and Golden, CO, is a supplier of equipment and solutions for potable water, process water, and industrial and municipal wastewater applications. Parkson designs, engineers, assembles and manufactures the products it sells into the municipal and industrial wastewater segments. Its factories and warehouses are located throughout the U.S. The company was founded in 1960 and celebrates its 60th year in business in 2020. Parkson Corporation has been owned by Axel Johnson Inc. since 1967.