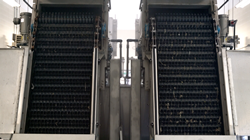 FORT LAUDERDALE, Fla. (PRWEB) November 11, 2021
Parkson Corporation is pleased to announce the release of a new video featuring the Aqua Guard® In-Channel Screen for water and wastewater treatment. The Aqua Guard revolutionized the wastewater screening industry over 45 years ago with a unique 3-dimensional filtration system. Since then, the line of screens has aided thousands of treatment plants worldwide by improving capture rates, reducing headloss, and protecting downstream equipment.
The video touches on the heart of the screening system, which includes a filter belt comprised of individual elements to help move solids up and out of the stream. The Aqua Guard® UltraClean™, built off the original Aqua Guard design, provides a 50% increase in retained solids and features design improvements in the head, belt path, and brush to help reduce maintenance. Multiple Aqua Guard models are available to accommodate various needs and applications, including the Aqua Guard® PF, which utilizes perforated plates to provide an absolute barrier based on size of openings.
Watch the video to hear from our satisfied customers and learn how the Aqua Guard has helped improve their plant's performance and reduce maintenance.
To learn more, visit the product page. Visit Parkson's YouTube channel for additional videos and be sure to subscribe, share and comment. For information, please contact Lydia Ebert at marketing@parkson.com.
About Parkson Corporation:
Parkson Corporation is a supplier of equipment and solutions for potable water, process water, and industrial and municipal wastewater applications, with offices in FL, CO, IL, KS, and AL. Parkson designs, engineers, assembles and manufactures the products it sells into the municipal wastewater and industrial wastewater segments. Its factories and warehouses are located throughout the U.S. The company was founded in 1960 and has been owned by Axel Johnson Inc. since 1967.