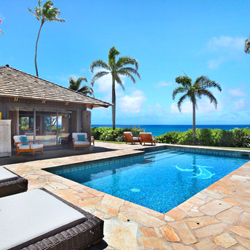 From $150 nightly. For best rates, call Parrish Kauai at 800-325-5701
POIPU BEACH, Hawaii (PRWEB) October 16, 2020
The Parrish Collection Kauai has announced its participation in Hawaii's Pre-Travel Testing Program and Kauai's "Rest, Test, Enjoy" secondary test program. These and other safety measures will help to welcome visitors back to the company's extensive collection of registered Kauai vacation rentals that include condos, homes and luxury estates.
For the most up-to-date testing requirements and travel information, refer to their Kauai Travel update.
"Our team is excited to welcome guests to the Garden Island," said JP Parrish, owner of The Parrish Collection Kauai. "Everyone can once again enjoy the unique experiences of a private vacation rental on Hawaii's most beautiful island, as we continue to emphasize our enhanced health and safety protocols through our new Parrish Professional Clean program," he added.
The Parrish Collection has always had the highest standards of care for its properties. Guided by industry experts, enhanced cleaning measures have been implemented in all properties to ensure the health and safety of Parrish property guests, property owners, business partners and employees as the company responds to the current environment and looks ahead to a future where, evidence shows, visitors are placing a priority on staying in vacation rentals that emphasize privacy and limited public contact.
"Parrish Professional Clean", the company-wide program Parrish has put in place to ensure the highest standards of health and hygiene, is built upon an already high standard of housekeeping at all of its properties. That program integrates hospital-grade cleaning products and protocols as part of its housekeeping system. By layering the new steps outlined in The Vacation Rental Management Association's new "Safe Home" program, guests have assurance and peace of mind that when they stay at any Parrish Kauai property, every effort has been made to ensure a high level of cleanliness.
According to JP Parrish, "Our collection of Kauai vacation rentals offer guests both privacy and seclusion given that all our properties are individual units and properties with separate exterior entrances. Guests can select properties from boutique condos or homes near Poipu Beach on the South Shore or in gold-centric neighborhoods like Princeville on the North Shore. All our properties are registered Kauai vacation rentals and feature our signature amenities like Hawaii-inspired and Italian-made Parrish Ocean bath products, custom-roasted Kauai coffee, and more."
A Selection of Parrish Collection properties:
Rates start at $150 nightly when booked direct with Parrish Kauai at 800-325-5701. Included are properties with private swimming pools, oceanfront settings, air-conditioning, and locations next to Kauai golf courses.
Poipu Kapili – Enjoy an oceanfront resort setting with spectacular seasonal whale watching and sunset opportunities.
Nihi Kai Villas – Stay across from Brennecke Beach and Poipu Beach in these ever-popular one, two- and three-bedroom Kauai vacation rentals.
Poipu Beach Collection – Choose from the large selection of homes on the sunny South Shore of Kauai with adjacent beaches, shopping, restaurants and world-class golf.
Princeville Collection – These properties include condos and homes, many with private pools, golf course access and trails leading to sandy beaches.
Guests have the personal freedom that comes with staying in a private accommodation combined with the advantages of renting from the largest vacation rental company on Kauai. These include 24-hour customer service, guest concierge services to help plan Kauai activities and to pre-stock groceries, free WiFi for easy connectivity, and free parking.
About The Parrish Collection Kauai – Purveyor of Professionally Managed Luxe Kauai Vacation Rentals.
The Parrish Collection of distinguished and unique properties on Kauai's South Shore, North Shore, East Shore, and Westside is complemented by dedicated and friendly staff committed to delivering the finest hospitality and lodging experiences. The Parrish Collection Kauai has been serving guests and property owners since 1984 and now has five offices on Kauai with convenient locations in Koloa, Princeville and Poipu Beach. Parrish Kauai also manages the classic oceanfront Poipu Kapili Resort, the time-honored Nihi Kai Villas, and the ever-popular Waikomo Stream Villas.
For their best available Kauai rates and online direct booking and property information, visit the Parrish Kauai website or call 800-325-5701. Guests can also visit the Parrish live Kauai webcam for real-time views of the Poipu Beach coastline and beautiful Kauai sunsets.
Media Contact: If you would like more information about the Parrish Collection or their Kauai vacation rentals, or if you would like to schedule an interview with JP Parrish, please call Anne English at 808-742-2000.