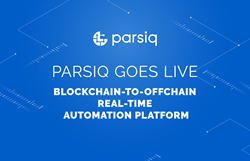 Blockchain technology is revolutionary and is disrupting many industries. It is changing how settlement works, how payments are carried out, and how we transfer value in general. However, there is a need for tools that would bridge blockchain transactions and actions outside the blockchain
TALLINN, Estonia (PRWEB) May 22, 2020
PARSIQ today announced the production release of its blockchain monitoring and automation solution. PARSIQ is the first blockchain monitoring platform that allows users to create "Smart-Triggers" to set up automatic reactions to events happening on the blockchain.
PARSIQ addresses the fundamental complexity of monitoring and reacting to blockchain transactions in real-time and at scale. Essentially, the product allows anyone to easily and quickly apply if-this-then-that logic to any blockchain to monitor blockchain activity and automate workflows related to that activity. This can be used with both public blockchains and private/permissioned chains.
"Blockchain technology is revolutionary and is disrupting many industries. It is changing how settlement works, how payments are carried out, and how we transfer value in general. However, there is a need for tools that would bridge blockchain transactions and actions outside the blockchain," says Tom Tirman, Co-Founder of PARSIQ.
PARSIQ provides a way for everyone, from traditional financial institutions to DeFi projects, to automate workflows between blockchains, apps, and off-chain web services. This solution will enable individuals, startups, and enterprises that deal with blockchain transactions to reduce complexity, minimize costs, and save time--all while maintaining maximum flexibility.
Smart-Triggers underpinned by PARSIQ's advanced language, ParsiQL, allows real-time insights, alerts, and advanced blockchain monitoring to run on its platform. Prior to launch, the company had already signed over 1,000 beta users and over 15 corporate customers for its pilot.
Among the most myriad of use cases for the technology are monitoring of transactions and user deposits/withdrawals, automation of compliance and risk management, automation of accounting, auditing, financial reporting, automation of trading, and automated notifications for user balance changes, among many others.
While PARSIQ is currently being mostly used in FinTech, banking industries, and capital markets, the solution can be applied to any blockchain-related activities. Here are just three basic if-this-then-that automations one can run with PARSIQ:
#1. If a user gets a deposit on Bitcoin addresses A, B or C, then deliver the aggregated transformed data about the deposits to Google Sheets.
#2. If any of the deposits come from a blacklisted or high-risk address, flag the account for additional screening, then notify the compliance officer via Slack.
#3. If the deposits total turnover for the day exceeds amount X USD, then send the financial report to an accounting program of choice.
The PARSIQ platform includes a free plan that can be used by everyone: https://portal.parsiq.net/
About PARSIQ
PARSIQ is a blockchain monitoring and workflow automation platform that serves as a multi-level bridge between blockchains and off-chain applications. PARSIQ's features automate the blockchain analytics and monitoring process, providing customizable workflows with real-time intelligence.