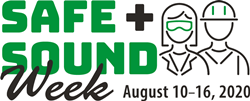 CICB Senior Instructor Larry Kime notes that "since 93% of all crane-related accidents are caused by lift crew or jobsite personnel mistakes, we recognize the importance of quality, comprehensive training."
ORLANDO, Fla. (PRWEB) August 11, 2020
More than 1400 businesses have signaled their intent to be part of the Safe & Sound week organized by the US Department of Labor's Occupational Safety and Health Administration (OSHA). The week is dedicated to recognizing successful health and safety programs.
Now in its fourth year, the nationwide event is the capstone of a year-round effort to promote hazard-free work environments across the nation. Since the passing of the Occupational Safety Health Act of 1970, OSHA has been tasked with setting and enforcing standards that assure employers provide work environments free of hazards.
As part of their mandate, OSHA also trains and educates employers and employees through initiatives like Safe & Sound Week. A central pillar of OSHA's work is eliminating the four primary causes of construction worker deaths, known as the "Fatal Four". These four – falls, struck by object, electrocution, and caught in/between – accounted for 591 lives, or 58.6% of construction worker deaths in 2018.
As an advocate for greater safety in the construction and manufacturing industries, CICB's training and service portfolio is specifically designed with OSHA-compliance in mind. Serving the lifting industry in particular, CICB's goal is to dramatically reduce and eliminate crane-related fatalities, which stand at an average of one every week, over the past 12 years.
CICB Senior Instructor Larry Kime notes that "since 93% of all crane-related accidents are caused by lift crew or jobsite personnel mistakes, we recognize the importance of quality, comprehensive training."
To that end, CICB is hosting two, live webinars on Tuesday August 18th and Wednesday August 19th. The first will concentrate on mobile crane safety awareness, the second on overhead crane safety awareness. In both cases, Mr. Kime will explain the applicable OSHA & ANSI/ASME regulations and standards, prevention measures for typical crane accidents, lift planning, division of responsibilities and the requirements for training, certifications, evaluations and documentation.
About CICB
Crane Inspection & Certification Bureau is a veteran-owned Texas company with offices and training facilities in Houston and Orlando, FL. CICB provides training, inspections, and management assist visits globally. Additionally, Houston is home to CICB's Career School, which is approved and regulated by the Texas Workforce Commission, Division of Career Schools and Colleges.
CICB's professionally trained instructors and subject matter experts are not only NCCCO Accredited Practical Examiners, but are NCCCO Certified as Mobile, Overhead & Articulating Crane Operators, Riggers, Signalpersons, Lift Directors and Crane Inspectors. CICB's instructors have been awarded the prestigious Top Trainer Award in 2017, 2016, 2014, 2013, 2012, 2011 and 2009