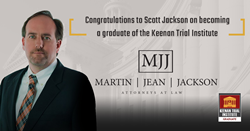 PONCA CITY, Okla. (PRWEB) February 11, 2019
Attorney Scott Jackson of Martin Jean & Jackson leads the Oklahoma law firm's litigation department. In order to continue to refine his abilities and further establish himself as a legal leader in the state, he has recently completed his graduate courses at the Keenan Trial Institute.
The Keenan Trial Institute is known nationwide for its in-depth courses for plaintiff attorneys who wish to advance their practice through improved legal knowledge and advanced trial practices. As a graduate of The Keenan Trial Institute, Partner-Attorney Scott Jackson is uniquely poised to offer unmatched, unwavering representation to personal injury clients who come to Martin Jean & Jackson in need of legal assistance.
To learn more about The Keenan Trial Institute visit https://keenantrialinstitute.com/. Further information about Attorney Scott Jackson's accomplishments can be found at https://www.mjjlawfirm.com/attorneys/scott-r-jackson/ and https://www.mjjlawfirm.com/.