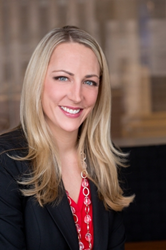 CHICAGO (PRWEB) May 11, 2020
Salvi, Schostok & Pritchard is pleased to announce Lake County Managing Partner Tara R. Devine has been recognized by the Chicago Daily Law Bulletin and Chicago Lawyer Magazine as one of the 2020 Women in Law honorees.
Ms. Devine was among 50 Illinois attorneys selected to the inaugural list from more than 500 nominations. The Chicago Daily Law Bulletin & Chicago Lawyer, products of Law Bulletin Media, announced all 50 honorees of their inaugural Salute! Women in Law Awards through a live webinar on Friday, May 8.
The 2020 Women in Law honorees will be recognized at a celebration on September 2, 2020 at the Ivy Room (12 East Ohio Street Chicago, IL 60611).
"We're so excited to recognize all of the incredible women who are leading the way in Chicago's legal community," said Ginger Lamb, vice president and publisher of the publications. "It was not easy to choose this year's inaugural slate because of the caliber of all the honorees and the accomplishments they have made. Everyone who was nominated is truly a leader in our profession."
Ms. Devine joined Salvi, Schostok & Pritchard P.C., in 2004 and became the firm's first female partner in 2011. In 2018, Ms. Devine was promoted to Managing Partner of the firm's Lake County office. She concentrates her practice in the areas of personal injury, nursing home negligence, wrongful death, medical malpractice and product liability cases. Ms. Devine has helped achieve numerous multi-million dollar verdicts and settlements on behalf of her clients, including a record-setting $148 million jury verdict on behalf of a dancer paralyzed by a collapsed pedestrian shelter at O'Hare International Airport. The verdict is the largest personal injury verdict ever awarded to an individual plaintiff in Illinois history.
Ms. Devine is a board member of the Lake County Bar Association and sits on the Board of Managers of the Illinois Trial Lawyers Association.
For more information or to set up an interview with Ms. Devine, please contact Salvi, Schostok & Pritchard's Director of Public Relations, Marcie Mangan, at (312) 372-1227 or mmangan@salvilaw.com