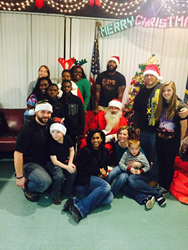 The #ATU is changing lives on a daily basis and this toy drive will do the same for so many children from various families this Christmas.
Pittsburgh, PA (PRWEB) December 15, 2015
Frank Walker, founder of Frank Walker Law, teams up with Omega Psi Phi fraternity brother and fellow West Virginia University alum Christopher Edmonds, of Athletic Trauma Unit (#ATU), for a toy drive initiative to benefit families in the Mon Valley area of Pittsburgh.
"This will be our second annual toy drive for families that need assistance," said Edmonds, founder and director of #ATU. "Donations will be distributed between three Christmas parties that we sponsor for families who have been identified by their local community centers as having a financial need."
The monetary donation from Pittsburgh attorney Walker to #ATU helps Edmonds and his group purchase additional toys and gifts for the toy drive. This year there are a total of 226 children registered for these toy drives. Edmonds and #ATU aim to provide a gift for the children from 0-13 years of age, as well as provide a holiday meal and crafts for the entire family.
When approached by Edmonds about a potential sponsorship, Walker did not hesitate to provide the donation. "I am thankful to be in a position to give back to the community and I'm proud to do so through the organization of my friend and fellow Omega brother Chris," said Walker. "The #ATU is changing lives on a daily basis and this toy drive will do the same for so many children from various families this Christmas."
Scheduled toy drives included the North Braddock Cares Winter Festival on December 6 and the upcoming toy drives at Rankin Palisades Youth Program on Thursday, December 17, from 5:30-8 p.m. at the Rankin Christian Center and the Rankin Christian Center After School Program on Wednesday, December 23, from 4-6 p.m., 230 3rd Ave., Rankin, PA.
About Athletic Trauma Unit
Athletic Trauma Unit is a non-profit health and wellness company that provides free family-oriented fitness training programs in the Greater Pittsburgh area. The mission of Athletic Trauma Unit is to remove all financial barriers, such as gym memberships and personal trainer fees, and help the community become dedicated to living a healthy lifestyle through exercise and nutrition. For more information, please call (404) 293-2629.
About Frank Walker, Frank Walker Law
Frank Walker is one of the most sought after criminal defense attorneys in Western Pennsylvania and Northern West Virginia, due to his reputation for real talk, real experience and real results. He is known and respected as a fearless criminal defense attorney who is ready, willing and able to zealously defend the rights afforded in the Constitution of the United States. For more information, please call (412) 532-6805.
About the NALA™
The NALA offers local business owners new online advertising & small business marketing tools, great business benefits, education and money-saving programs, as well as a charity program. For media inquiries, please call 805.650.6121, ext. 361.