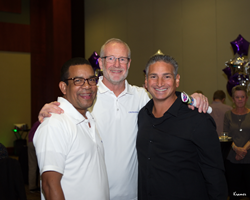 What a simple thing you can do to be a light in this world...GO TO A PARTY!
VIRGINIA BEACH, Va. (PRWEB) November 16, 2018
On October 12, 2018, the world grew smaller as hundreds of people celebrated changing lives in Nicaragua at Party with a Purpose. Hosted by John and Stacey Pitzaferro and supported by TransNational Payment Solutions, Party with a Purpose is held annually outside Chicago, IL to support more than 1,200 vulnerable children in Nicaragua.
The evening began with an introduction by John Pitzaferro who gave the microphone to Eddy Morales, Country Director for ORPHANetwork, serving in Nicaragua. Morales highlighted how this party has helped so many children in Nicaragua, giving thanks to the Pitzaferro family and all of the attendees who have supported the party over the past eight years.
After Morales thanked the crowd and they proceeded to dance to the live music of Seventh Heaven, attendees partied the night away by participating in various activities including arcade games, raffles, wine grabs and even mechanical bull riding, while surrounded by photos of Nicaraguan children who benefit from this party.
Later in the evening, the attendees participated a live auction where one lucky winner and three of their friends will accompany NFL Hall of Famer and Super Bowl-winning coach, Tony Dungy and his son deep-sea fishing, this item was auctioned off for $30,000. While participants greeted each other and danced the night away, the celebration of the evening was another successful fundraiser with more than $200,000 benefiting the vulnerable children served by ORPHANetwork.
About ORPHANetwork:
OPRHANetwork serves more than 20,000 vulnerable and orphaned children in Nicaragua. Believing that the local church is the "Hope of the World," ORPHANetwork works through the local Nicaraguan church to break cycles of poverty through health, education and jobs.
About TransNational Payments:
TransNational Payments is an industry leader in payment and technology solutions serving businesses nationwide, being recognized as one of the most charitable and socially responsible companies in the industry. Merchants trust TransNational Payments to manage their payments in-store, online and anywhere their business takes them.