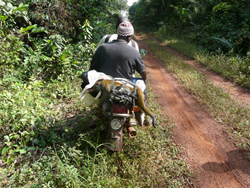 We cannot sit by while human health and endangered species are at risk. That is why PASA calls for an end to the commercial wildlife trade.
PORTLAND, Ore. (PRWEB) June 10, 2020
The Pan African Sanctuary Alliance (PASA) – the largest alliance of wildlife centers in Africa – has released a statement calling for the end of commercial trade in wildlife. This statement is part of a sustained focus on wildlife trafficking which includes the Action for Chimpanzees conference held in January, the #NotAPet petition launched in February, and now a panel discussion on preventing the next pandemic co-hosted with the World Affairs Council of Oregon.
"As an alliance of wildlife centers, our members know first hand the destruction caused by the wildlife trade," said Gregg Tully, PASA Executive Director. "They currently care for over 3,000 great apes and monkeys rescued from devastating conditions. We have seen this issue grow at the same time that habitat has disappeared, creating the right conditions for an outbreak like COVID-19. We cannot sit by any longer while human health and endangered species are at risk."
The problem of commercial trade in wildlife is complex, requiring international treaties, national laws, and local enforcement for success. Recognizing that no single entity can do it all, PASA has outlined proposed actions at each level, including:

Prohibiting the sale of wildlife in both online and local markets
Collaborating with communities to develop alternative livelihoods that make the wildlife trade unnecessary
Developing and enforcing regulations to prevent zoonotic disease transmission
Reevaluating and, where needed, strengthening international treaties
To further explore the issue, PASA is joining with the World Affairs Council of Oregon to convene a panel discussion entitled Preventing the Next Pandemic: The Intersection of Human Life & Wildlife, on June 11 at 12 PM Pacific time (19:00 GMT).
The panelists are: Thomas Gillespie, of Emory University, who studies the emergence of pathogens in human and animal populations; Dominic Travis, of the University of Minnesota, an expert in wildlife epidemiology and veterinary public health; James Desmond, of the EcoHealth Alliance, a field veterinarian tracking disease in wildlife populations in Liberia. Registration is available at the World Affairs Council of Oregon website.