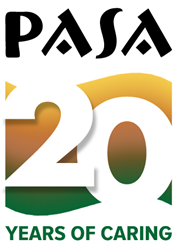 Add a quotable"Habitat destruction, wildlife crime and the cruel pet trade mean that sadly, the services PASA members provide are more critical than ever. That's why, as we look ahead to our next 20 years, we're focused on programs that will forge lasting change, leveraging the extensive experience
PORTLAND, Ore. (PRWEB) September 16, 2020
The Pan African Sanctuary Alliance (PASA) celebrates twenty years since being founded in Entebbe, Uganda, in 2000. In that time, thousands of African primates have been rescued from the bushmeat trade, illegal poaching and trafficking, many of them endangered species including chimpanzees and gorillas.
"This is an exciting milestone for us," said Gregg Tully, PASA Executive Director. "What started as a loose network of sanctuaries doing similar work has grown into an international movement that balances the welfare of each animal with systemic programs to ensure the survival of endangered species far into the future."
Since its founding in 2000, the PASA alliance has:

Rescued and provided care for over 4,000 apes and monkeys
Grown to 23 members in 13 countries
Provided employment to over 800 people, most in African nations
Returned more than $5M to local economies annually
Protected over 150,000 acres as conserved habitat
"We're proud that all nine founding members are still part of the alliance," said Michele Stumpe, PASA board chair. "This is a testament to the information sharing, training programs, and overall support they receive."
PASA members go through a rigorous accreditation process that can take several years to complete. This covers all facets of running a primate care facility including animal behavior, veterinary care, facilities and enclosures, as well as financial oversight and sustainability.
"Running a wildlife center is tough in the best of times," said Joshua Rukundo, Director of Ngamba Island Chimpanzee Sanctuary in Uganda. "And this year, we face our biggest challenge yet with COVID-19. The emergency support we received from PASA has helped us to keep going through this."
The 23 PASA member wildlife centers, in 13 countries across Africa, face extraordinary threats due to the pandemic. Travel bans have left them without volunteers. Disrupted supply lines mean that getting food and veterinary supplies is precarious. Many organizations have staff sheltering-in-place at the centers rather than leave vulnerable monkeys and apes without care during this time. On top of these issues, PASA members must also take biosecurity measures to protect the animals from possibly contracting the disease.
"COVID-19 is just one threat facing primates in Africa," said Tully. "Habitat destruction, wildlife crime and the cruel pet trade mean that sadly, the services PASA members provide are more critical than ever. That's why, as we look ahead to our next 20 years, we're focused on programs that will forge lasting change, leveraging the extensive experience of PASA members, and combining it with governmental and non-governmental organizations. This work is not easy, but it must be done to make sure we honor the vision of our founders 20 years ago."