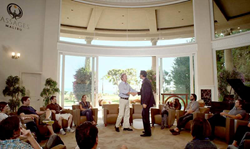 "Street drugs are always unsafe and can be habit forming for individuals dealing with unresolved past trauma." - Pax Prentiss, CEO Passages Addiction Treatment Centers
Malibu, CA (PRWEB) March 25, 2014
According to a new study published on March 13th in Drug and Alcohol Dependence, a sharp drop was noted in the number of young people beginning the use of crack cocaine, over the last ten years.
Stats show that in the US, roughly 200 young people begin using crack cocaine each day. In 2002, when survey data was first collected, the number of young people using crack for the first time was more than 1000 new users each day.
The survey looked at 500,000 individual cases between 2002 and 2011. The study showed that no single factor or US agency was owed credit for the decline as availability, perceived risk, and incarceration levels experienced only modest declines. The use of crack cocaine by dependent individuals remains an important public health topic, as the survey showed no significant declines among daily active users.
"Street drugs are always unsafe and can be habit forming for individuals dealing with unresolved past trauma," said Pax Prentiss, CEO of Passages Addiction Treatment Centers. "Our treatment team does a great job of helping our clients stay committed to living meaningful lives without the need for drugs or alcohol."
Crack cocaine, a more concentrated version of powder cocaine, became prevalent in the early 1980s, especially in low-income, urban areas of the US, before becoming a more widespread problem.
At Passages Malibu - Addiction Ends Here™
About Passages Malibu & Passages Ventura:
Father and son team Chris and Pax Prentiss founded Passages Malibu in 2001. Its second location, Passages Ventura, first opened its doors in 2009. The two alcohol & drug abuse treatment centers offer an alternative to the 12 step/AA model of addiction treatment by utilizing a holistic program that focuses on the underlying issues of substance dependency, rather than attributing addiction to an incurable disease.
Both Passages Malibu and Passages Ventura accept insurance and each have earned the coveted Joint Commission (JCAHO) accreditation, which has only been given to 6% of the nation's behavioral health treatment programs.
Passages Malibu was named the #1 treatment center in the world by Healthcare Global, one of the "Most Luxurious Places to Dry Out" by Forbes magazine, and the Huffington Post recently acknowledged Passages as a center that "caters to a high-end crowd, with many CEOs, entrepreneurs and high-powered professionals among its clients."
The co-founders are also authors of an acclaimed series of addiction treatment books, including their groundbreaking, flagship title, The Alcoholism & Addiction Cure.
For general inquiries about treatment, contact: 866-233-1753.
For media inquiries, contact:
press(at)passagesmalibu(dot)com