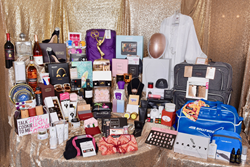 LOS ANGELES (PRWEB) June 07, 2019
It was big. It was spectacular. The sky was the limit with wall-to-wall razzle-dazzle glitter and gold in the ballroom of the historic Pasadena Civic Auditorium. All aboard all-day in the Golden Gift Lounge at the 46th Annual Daytime Emmy Awards for high fashion, high tech and high spirits.
The event was packed with daytime TV's family of friends, Emmy nominees and co-workers, VIPs, celebrities, great sponsors and dedicated fans. From April 28 to the grand finale Awards Night on May 5.
Glitz, glam and rosé or (golden eye masks) - Celebrities got red carpet ready with For The Stars Fashion House whose dresses have been seen on the world's renowned stars: Jennifer Lopez, Gwen Stefani, Carrie Underwood and more.
Rc Caylan Atelier offered his "magic touch" bringing his sophisticated yet edgy one-of-a-kind gowns. Dramatic and grandeur, Radmilla Lolly designs inspired by her opera-singing background - both designers were among the favorites of many Emmy nominees on the red carpet. Pia Gladys Perey's glamorously draped jersey creations had celebrities showing off their picture-perfect silhouettes.
Inspired by Greek Goddess', Chloe + Mint provided a fragrantly bloomed floral wall. Florist to the stars, Jeff Leatham made a golden statement with its elegant 5-foot vases and set the tone for an exquisite evening.
European inspired bespoke men's suits by Ron Tomson - was back to dress all the Emmy presenters and winners for a second year in a row.
Celebrities immersed their inner radiant beauty with Knesko's reiki-infused collagen eye masks.
First up, join the jet set at the Emmy Air Lounge.
Each guest at the official gift lounge could first check in for a boarding pass to Air Hollywood- The Pan Am Experience, a unique trip aboard an actual Pan Am 747 first class cabin from the seventies -- the glory days of air travel.
The seats are original, the place settings and menu are authentic, and each attending stewardess wears the seventies Pan Am uniform in a classic return to a time gone by. Air Hollywood, the perfect way to take off on an endless runway of luxury gifts. And it doesn't leave the ground.
First stop -- Luggage. Biaggi's award winning foldable travel bags that made their mark on Shark Tank. Bags that lift-off, carry on, go underseat.
Get in a luxurious state of mind with your golden luggage tag by Mytagalongs
Socially conscious, fashionable and timeless, lose time with Timelape's recycled precious metals.
For the future-minded... the robotic ForwardX suitcase. You walk, it follows you everywhere -- around corners, U-turns, without contact, like magic.
Next Stop -- Emmy nominees were gifted a free vacation they'd remember for the rest of their lives thanks to S Hotel Jamaica and Caribbean Living Magazine. S Hotel Jamaica - Overlooking Cave Beach, the "S" is inspired by Mykonos and Miami.
In the Emmy Tech World, you could find everyone at the lounge's favorite spot - the Portal From Facebook lounge. Facebook unveiled its first-ever consumer electronic device built from the ground up. Portal can display photos and videos posted by friends on Facebook and are made for AI-enhanced video calls with Facebook Messenger, an app with 1.3 billion monthly active users. The devices will be able to speak with Amazon's Alexa and stream music from Spotify, Pandora, and iHeartRadio.
Unlike the video calling you're used to; Portal has Smart Camera. So, it feels like being together in the same room even when you're far apart. And Portal makes it easier to connect more regularly with the most important people in your life.
Wheels Up!
Time to check out the gadget place. Dashcams! Every car should have a NEXTBASE Dash Cam -- a prize-winning brand recommended by consumer affairs organizations and customers everywhere.
Guests looking for a deep sleep wanted the sound device called LectroFan Micro2, by Sound of Sleep, the world's first sound machine in a compact swivel design that gives you both sounds for sleep and a wireless speaker for enjoying ultra-high-fidelity audio on the go.
Guests who toured the Gift Lounge were treated to three fashion shows and a special performance by Emmy award-winning host of The Real, Adrienne Houghten and her husband Israel Houghten. They had the crowd riveted with their Emmy nominated best musical performance in a Daytime show.
What's Your Passion... is the name of a jewelry line -- hand crafted in the US and 100% officially licensed by Marvel Entertainment. It has a special 46th Emmy ceremonial necklace
MERCEDES BRUNELLI is an artist. Her signature hand-made clutch purses are unique and spectacular jewels in themselves, each is one-of-a-kind. She even created a special Emmy tribute clutch for this year's awards.
In our beauty department....
BROW BAR BY REEMA is the leading expert in eyebrow threading, a skill passed down through generations and whose talent delivers eyebrow perfection that reflects the beauty inside you.
For a complete range of beauty products and quality treatment devices guests also went to FOREO the Sweden based provider of beauty and well-being now reaching a wider audience than ever in its history.
BOXYCHARM is the only subscription beauty box offering full-sized product and there's a special customized box to get you confidently and completely ready for the red carpet.
MONAT Global is widely known for its naturally based premium haircare products that are based on the fruits of nature as well as extensive clinical testing and cutting-edge quality manu- facturing techniques. REJUVENIQE® Intensive Oil is MONAT's signature product. It's so pure, versatile and safe that it can be used in multiple ways to improve skin and hair.
Bounce Curl -- Frustrated with all the unsuccessful results from the harsh products available, owner creator of Bounce Curl, Merian Odeshu, decided to do something about it! As an expert chemist, she developed a formula with the five most purest most luxurious ingredients to tame and give brilliant shine to the most curly and unruly hair. Great for all hair types.
Lia Reese Canada is a great brand of beauty products that include award winning botanical skin care and trendsetting cosmetics, luxurious body care and simple-step men's skin and shave care.
Symbolized by the coffee cup and the key ingredient- black rice -staples to everyday life. HaruHaru means daily ritual, the simple path to pure beauty, which is why it's the most trusted Korean Skincare brand. Haruharu uses a natural fermentation technology that delivers 4x the anti-aging benefits of each of the raw ingredients (Black Rice, Maqui berry, Green Tea, Honey) to your skin. Haruharu's patented Liposome technology allows for ultra-fast and ultra-deep absorption into the skin making your skin more radiant with the most healthy and natural glow.
THE KAHUNA CHAIR gives the ultimate full body massage.
And guests tried the revolutionary LED face mask which delivers Near Infrared Ray therapy for a unique facial.
Four Wicks candles heated things up in Daytime with their luxurious soy candles, hand poured in Melbourne, Australia.
Next Stop --Tequila Time at the ballroom's center whereas celebs made their way to the Jet Engine cocktail bar, a perfect oasis for thirsty visitors to put up their feet for fifteen minutes while they downed Tequila shots with Diddy's DELEON TEQUILA and celebrated the Cinco de Mayo weekend festivities along with the smooth as silk diamond filtered Carbonadi Vodka.
Emmy partygoers kept the party going by toasting with delicious wine, courtesy of Michael Sulleberg, Capo Cagna and enjoyed specialty tiki cocktail drinks by the world's #1 selling rum Tanduay Rum.
The Emmy Gourmet Kitchen area was a special treat - a tribute to the Emmy Lifetime Achievement Award winner TV Chef pioneer Jacques Pepin. The best in Gourmet offerings including Black River Caviar, Bella Sophia Chocolates, Truffe hot sauce, The Dirty Cookie, Della Pace Olive Oil, Spices and Tease and I Am Amaranth vegan snacks from a specially carved cutting board gift by Warthel Cutlery to Jacques Pepin. And all the way from France, a gift from Revol Ceramics - a uniquely French take on a solo cup - With love from his homeland.
During our DeLeon Tequila break we celeb spotted as the daytime stars producers and VIPs filed past.
Among the crowd: Sharon Carpenter (On-air personality "Wendy Williams"), Camila Banus , Robin Givens (Actress & model), AJ Gibson (TV host), Carissa Culiner ("E! News"), Scott Evans ("Access Live"), Adrienne Houghten ("The Real"), Israel Houghten (Grammy Award winner), Victoria Konefal ("Days of our Lives"), Dr. Nita Landry ("The Doctors"), Eric Martsolf ("Days of our Lives"), Rachel McCord ("The McCord List"), Sal Stowers ("Days of our Lives"), Judge Marilyn Milian ("People's Court"), Annick Noelle ("Bold and the Beautiful"), Marci Miller ("Days of our Lives"), David Osmond (Wonderama), Jezlan Moyet ("Good Morning La La Land"), Chloe Lanier ("General Hospital"), Olivia Keegan ("Days of our Lives"), Christopher Sean ("Days of our Lives"), Laura Wright, ("General Hospital"), Kym Douglass (host, "Ellen" and "Home and Family"), Cait Fairbanks ("Young and the Restless"), Celeste Fianna ("The Bay"), Carolyn Hennessy, ("General Hospital"), Jade Harlow ("The Bay") and others.
The Fashion Stop --- the first dazzling classy attraction were the best in red carpet designer must-haves - sparkling bejeweled shoes by BADGLEY MISCHKA.Their style takes us back to the glamorous Hollywood of the Forties. Simple, streamlined and thoroughly elegant.
IN BLOOM intimates drew attention for their free-spirited romance merged with vintage glamor, creating effortless sleepwear, loungewear and lingerie.
SINGLE DRESS by designer Galina Sobolev offered luxurious garments for independent, stylish and passionate women.
THE MONICA LEIGH COLLECTION offered luxury apparel focused on its mission statement: "Adorning the body in luxurious elegant artistry, inspiring individuality and confidence on a global scale."
Melissa Pellone Designer Fashion designer Melissa Pellone applies the energetic and chic classy style from her New York roots paired with her love of California and old Hollywood glamour to create innovative ready to wear for the modern contemporary woman.
Guests who toured the Gift Lounge were treated to three fashion shows and a special performance by Emmy award-winning host of The Real, Adrienne Houghten and her husband Israel Houghten. They had the crowd riveted with their Emmy nominated musical performance in a Daytime show.
The heads of all brands mixed with the daytime shows executive producers, hosts, Emmy presenters, nominees and invited celebrities checking out the gold and silver and jewelry by the shelf-full! There were jewelry and electronics and beauty products, high fashion and prizes galore -- all happening on Saturday May 4 at the historic Pasadena Civic Auditorium ballroom to celebrate the 46th Annual Daytime Emmy Awards.
It was a wonderland of health and beauty products, electronic toys and gadgets, fashion and top of the line accessories.
A luxurious lounge offered non-stop hors d'oeuvres and cocktails presented in the atmosphere of the finest of Pasadena's historic architecture and the exquisite gift displays.
Produced by 8-time Emmy Award-Winner Lisa Lew and P&L Media
About Daytime Emmy:
The Daytime Emmy Award is an American accolade bestowed by the New York–based National Academy of Television Arts and Sciences in recognition of excellence in American daytime television programming.