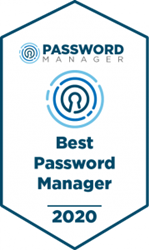 MOUNTAIN VIEW, Calif. (PRWEB) July 29, 2020
PasswordManager.com, a dedicated source for internet safety and password security, has announced the leading password management platforms for 2020. Researchers recognized 20 software companies, and each was selected based on encryption, device compatibility, unlimited storage, and added features.
The online guide highlights top features to consider when choosing a password manager, as well as a variety of free and paid options.
PasswordManager.com limited the assessment to platforms that are compatible with various devices, operating systems, and browsers. Companies were required to have the most up-to-date security features including high-level data encryption. Additional requirements include unlimited password storage, and the ability to sync an unlimited number of devices.
"Our research shows that 86 percent of consumers use passwords that have already been leaked in data breaches, and this increases their vulnerability to scams and identity theft," says Erica Fagien, Chief Communications Correspondent for PasswordManager.com. "Choosing the right password management software can help people generate and remember strong passwords."
The comprehensive guide also includes pricing and expert feedback. To access the complete list of top password management systems, visit https://www.passwordmanager.com/best/
20 Best Password Managers of 2020

1Password
Bitwarden
Dashlane
Enpass
F-Secure
Intuitive Password
Kaspersky Password Manager
KeePass
KeePassXC
Keeper
LastPass
LogMeOnce
NordPass
Password Boss
RememBear
RoboForm
SplashID
Sticky Password
True Key
Zoho Vault
ABOUT PASSWORDMANAGER.COM
PasswordManager.com is a leading authority in password security. Consumers can access free resources to help secure their personal identity and select effective password management systems. The company is led by a team of analysts, researchers, and experts that are committed to increasing awareness about internet safety. To learn more, visit https://www.passwordmanager.com/.