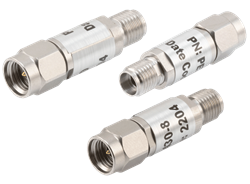 "The expansion of our 40 GHz RF fixed attenuator product line provides our customers with high-quality RF performance at a lower cost point compared to our existing variable attenuator product offering," said Steven Pong, Senior Product Manager
IRVINE, Calif. (PRWEB) December 01, 2022
Pasternack, an Infinite Electronics brand and a leading provider of RF, microwave and millimeter-wave products, has expanded its line of 40 GHz fixed RF attenuators with 2.92 mm connectors that lower the amplitudes of signals in a wide variety of applications.
Pasternack's 40 GHz attenuator pads are engineered for preventing signal overload in amplifiers, detectors and receivers and adjusting RF signal levels to an optimal range.
These 40 GHz fixed RF attenuators protect measurement equipment and other circuitry by reducing RF power. The attenuators increase the range of power meters and amplifiers and are capable of impedance-matching circuits because of their low VSWR seen by adjacent RF components.
These new RF attenuator models from Pasternack feature power ratings of 2 watts up to 40 GHz and provide attenuation levels of 0 to 10, 12, 15, 20 and 30 dB.
"The expansion of our 40 GHz RF fixed attenuator product line provides our customers with high-quality RF performance at a lower cost point compared to our existing variable attenuator product offering," said Steven Pong, Senior Product Manager.
Pasternack's new 40 GHz fixed RF attenuators are in-stock and ready for immediate shipment with no minimum order quantity. For inquiries, contact Pasternack at +1-949-261-1920.
About Pasternack:
A leader in RF products since 1972, Pasternack is an ISO 9001:2015-certified manufacturer and supplier offering the industry's largest selection of active and passive RF, microwave, and millimeter-wave products available for same-day shipping. Pasternack is an Infinite Electronics brand.
About Infinite Electronics:
Based in Irvine, Calif., Infinite Electronics offers a broad range of components, assemblies and wired/wireless connectivity solutions, serving the aerospace/defense, industrial, government, consumer electronics, instrumentation, medical and telecommunications markets. Its brands are Pasternack, Fairview Microwave, L-com, MilesTek, ShowMeCables, NavePoint, INC Installs, Integra Optics, PolyPhaser, Transtector, KP Performance Antennas, RadioWaves and Aiconics. Infinite serves a global engineering customer base with deep technical expertise and support, with a broad inventory available for immediate shipment, fulfilling unplanned demand for engineers and technical buyers. It is a Warburg Pincus portfolio company.